Dec 21, 2017
Rev. Carl Greene
Hebron SDB Church, PA
Dinner conversation tends to raise interesting questions. For instance, you ask for the salt and pepper shakers, and your daughter asks you, "Where does black pepper come from? Does it come from a bush or a tree?" These questions might be a challenge for some; not so for this parent. After all, I was raised in a farming household — I know this sort of stuff. When questions like this arise, like any self-respecting parent I will stall until I can find the answer via my smart phone. (The majority of black pepper is grown in Southeast Asia, and the clusters of peppercorns grow on a vine). Thank you Siri.
I have questions about another harvest as well — and these questions are more difficult to answer. My questions surround the kingdom harvest that Jesus invites us to participate in. This instantly raises feelings of guilt — because it goes down the road of our call to evangelism. If you and I fit the statistical mold of Evangelical Christians, we are convicted that we should be talking with people about how to enter into a saving relationship with Jesus Christ. If you and I fit that same statistical mold, we do not act on that conviction. We remain silent. We are not sharing our faith. We break our commitment.
But, let's avoid a rush to proclaim laziness — there might be something lurking deeper yet. What if proclaiming the gospel with compassion is not just about utilizing techniques from the latest e-book — what if God is seeking to shape my heart to be prepared to labor in His harvest? Matthew 9:38 states "…therefore pray earnestly to the Lord of the harvest to send out laborers into his harvest." In the very next verse Jesus sends out the disciples as those very laborers for which they had prayed. This gives me two questions. 1) How do we prepare to labor in this caring harvest of the kingdom? 2) How do you and I intentionally grow into the role of harvest laborers? The answers involve much more than a good evangelism sales pitch — and lead us into the Book of Leviticus, chapter 19.
Leviticus chapter 19 is a very familiar chapter to us. Jesus quoted from verse 18: "…but you shall love your neighbor as yourself: I am the Lord." Jesus labelled this as a part of the Great Commandment. This might be kind of important. Yet, verse 18 is not a stand-alone verse in Leviticus chapter 19 — there are a number of preceding paragraphs giving specifics about how to love your neighbor. One of these paragraphs details how to harvest a field. Here we will find principles of how to love our neighbor — by preparing for the harvest.
Leviticus 19:9-10: "When you reap the harvest of your land, you shall not reap your field right up to its edge, neither shall you gather the gleanings after your harvest. And you shall not strip your vineyard bare, neither shall you gather the fallen grapes of your vineyard. You shall leave them for the poor and for the sojourner: I am the Lord your God." (ESV)
So, the people are called to love their neighbor by not harvesting to the field edges, by leaving some grapes in the vineyard, and by not gathering the gleanings. Some crops should intentionally be left in the field — there should be food for the poor and the sojourner. The focus should not be entirely on yourself — you should be looking out for the care of others. Notice, this is looking out for the care of people that you might not know, caring for people that you did not know were even in need. The key to loving one's neighbor is to be prepared.
Not many of us have extensive vineyards to apply these verses to. But, we all have opportunity to apply the principle of these verses. The harvesters are to avoid reaping right up to the edge — they are to leave margins for other people to thrive in. We should know something about margins even without agricultural illustrations. Look at this page — there are margins around the edge of the page. There is white space that keeps our eyes from going buggy while trying to read. Margin is necessary for our eyes to keep focus.
Back in the day of electric typewriters when I took my high school typing class, we set our margins for various documents. During this stone age of written communication, we had to work to keep the white space around the edges. We set margins to make sure the typewritten page did not become overwhelmed by too much detail. We needed to learn what margins were used for various types of letters, papers, outlines, and the like.
Today, I don't know diddly about margins. I start typing on my laptop and the margins are simply provided for me. Life is great with preset defaults! But, in the olden days, I was in control of my margins; I set them to fit the document. Today, I just take whatever white space I happen to be given around the edges of my written document.
The same is true for margin around the edges of our lives. Dr. Richard Swenson defines margin as "…the space that once existed between ourselves and our limits." (Margin, 32) We pack all that we can possibly cram into life, and leave no margin in it. We are full of activities, events, outings, enrichments, work, responsibilities, civic organizations, hobbies, and the like so that we have no margin left.
Our lives have experienced a transition similar to the shift of typewriter to word processor. Where we were once in control of our margin and enjoyed free time, we now find our lives hopelessly packed and full. We look back at how life once felt, and wonder how we ever got so busy.
An overloaded life does not just affect me. Leviticus 19 reminds us that loving our neighbor requires guarding the margins of our lives. An overloaded life means that my life harvest is out of balance. When we link this with Jesus' call to labor in the harvest (Matthew 9), we find that an overloaded life precludes us from being a compassionate laborer in sharing the gospel. If we truly desire to get off the treadmill of an overloaded life and be in a healthy place to labor in Kingdom harvest, we have decisions to make.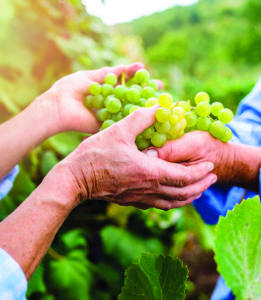 Learn a New Word.
If we are to know margin in our lives, we must practice saying a word. This is a complicated word that requires a great deal of repetition. The word is: No. Say it out loud multiple times — be ready to use it in a number of settings. "No."
Commitments consume us. Every time we say yes to something, it usually means saying yes to three things — and the commitment snowballs. For me, I have the opportunity to speak at a variety of local settings. On the surface, I am only saying yes to a 25-minute speaking commitment. However, when I say yes to a speaking opportunity, I am also saying yes to preparation, travel, and lost opportunities. For me, this means when I say yes to speak for 25 minutes, I am also saying yes to 15 hours of preparation, 30 minutes of travel, and about 16 hours I will not spend with my family.
The same is true for you. When you say yes to something good, you are saying yes to at least three more commitments at the same time. We need to be intentional about weighing out what we are willing to be committed to — and the cost of that commitment. Be ready to say no!
Check Expectations.
Kids are expected to practice like professional athletes — by the time they enter Junior High. Parents are expected to provide Ivy League enrichment opportunities to their children — by the end of their child's pre-school career. Grandparents and elder relatives are expected to overwhelm their younger relatives with material blessings and time availability. Every generation is expected to be financially successful, and also outdo their peers when it comes to praise worthy activities.
It is true that we are called to excel at what we do. We are called to glorify God through that excellence. Yet, that striving for excellence must not violate the harvest principle of margin. Our cultural expectations must be questioned when we are habitually driven to overloaded lives. Maybe I can be that dad that does not brag about how many evenings are full because our family is a bunch of overachievers. Hopefully I will be a dad who has enough margin in my life to speak into the lives of my wife and children — and allow them into speak into mine.
Make a Decision.
It is estimated that we are faced with 35,000 decisions daily. 226.7 of those daily decisions are about food. (I believe that the .7 decision about food involves tofu). We are overwhelmed with daily decision making — so it is imperative that we not replay every decision. Simplifying life is incredibly important. If we want to keep margin in our lives — enough margin to labor in the Kingdom harvest — then we must simplify our lives. Agonizing over minor decisions eats up our time, especially around the margins. We should make a plan and stick to it. It is when we prioritize our margins over rehashing our many minor decisions that we can see two margin principles shine through.
Margin Principle #1: Intentionally leave margin so there is room for others.
It is only when there is margin in my life that I will be able to love my neighbor richly. It is only when there is margin that I will be prepared to: See the Harvest, Pray for the Harvest, and Expect to Labor in the Harvest. My personal call to evangelism is not so much driven by technique, as it is by maintaining the margin required to love the Lord my God with all that I have, and to love my neighbor as myself.
Margin Principle #2: Margin yields opportunity for the extraordinary.
When there is enough margin in my life to passionately pray, then I will see where to join God in His harvest. It is only when I stop packing my life absolutely full with activity that I am prepared to be healthy enough to hear Christ's call to labor in the harvest.
For churches to be healthy, we must passionately pursue outward focus and labor in the gospel harvest. But there is a clear prerequisite. The church's members must ruthlessly guard their margins. Without the intentional protection of our margins, we will not be prepared to see the harvest with the Father's eyes, pray for the harvest with Christ's compassion, nor be led by the Spirit to labor in the harvest.