Dec 21, 2017
By Louie Brown
Worship Leader
Grace Seventh Day Baptist Church
Grace Seventh Day Baptist Church, in Bloomington, MN, has been our spiritual home for over five years. Our first Sabbath service we gathered in Greg and Carol Olson's living room. We had no way to envision what God would do from this humble beginning. Pastor Dale Rood (Dodge Center SDB) greeted us, introduced us to the Olsons and three other people. He picked up his guitar and away we went! Worship in this small setting was a different experience for us. Immediately we sensed a good Spirit about the group. We had searched a long time for serious Bible-based believers who lived what the Bible teaches, including keeping the God-appointed Sabbath Day worship.
Our second Sabbath, Pastor Rood could not attend so we brought our keyboard and a couple hymnals. The worship, prayer, praise and fellowship lunch were better than the first! We talked for hours about our experiences and how God brought us to this point in time. It was decided right then we felt led to start a church. It was agreed we all were serious to commit our time and resources to the opportunity God had provided. Again, God was way ahead of us. The gifting of the people in that room was perfect. Even though we had only six people, we had all the elements necessary for a church. Pastor Advisor Dale Rood and the Dodge Center SDB Church were willing to nurture us as a "branch" church. Greg Olson's deep desire to learn and teach God's Word along with Marlene and Louie Brown's music background plus Carol Olson's business experience filled all the needs. It was good to have our people involved in the services but that left us with a congregation of two or three people! We agreed, we would always have a Sabbath service even if only one could come.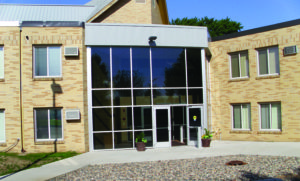 Our recent fifth anniversary was a milestone. Space does not permit me to tell you all the amazing ways we have been blessed. Our congregation averages 18 each week with a range of 14 to 25. Pastor Greg along with Elder Jeff and occasionally Pastor Dale provide our preaching and teaching. We have guest speakers and occasional programs with attendance of 50 or more. Numbers ARE NOT what we are seeking! Our focus is on God's Word, loving and caring for each other and world missions. One of the "most amazing" things God has done through us is a church start in Manila, Philippines. A man contacted us through our website, graceseventhdaybaptist.org. Through our prayers, support and Pastor Genieking's work, an SDB church was started there. He recently joined in the work of other SDBs in the Philippines! In a short five years God's blessings, through our little church, span the globe from Bloomington to Manila. It all started in the Olsons' living room.
We invite everyone to visit Grace Seventh Day Baptist Church in Bloomington, MN. More information about our congregation can be found on our website. We are a small church but we serve a huge God.