Jun 23, 2017
by Nicholas J. Kersten
Director of Education and History
For many years, the Historical Society, and now the Council on History, has used the Historical Library and Archives to provide reference assistance to researchers. This research is provided to a few classes of people. The first group is to Seventh Day Baptists who are looking to better understand their own life and faith. Another group is academic researchers. A final group is those who are looking for genealogical information. For the past several years, the priority in the historical work among Seventh Day Baptists has been for research by academics and Seventh Day Baptists. We have had the opportunity and privilege to provide this service to hundreds of people.
Sometimes, this work of reference assistance leads to written works which contribute to the broader understanding of Seventh Day Baptists and our history, not only among SDBs, but also in the broader world. This year, three new books have been or will be released which contribute to the understanding of Seventh Day Baptists in the broader world.
The first of these books is The Essential Handbook of Denominations and Ministries by George T. Kurian and Sarah C. Day. This book is, as the title suggests, a series of brief entries on the 200 largest Christian denominations in the country, along with many parachurch ministries. The entry on Seventh Day Baptists in this volume outlines our key organizational and doctrinal distinctives. The book is published by Baker Books, and was released earlier this year.
The second book that relates an incident from SDB history is the forthcoming commentary on Micah from the The Two Horizons Old Testament Commentary Series, by Stephen G. Dempster. Dr. Dempster is the Stuart E. Murray Associate Professor of Religious Studies at Crandall University in Moncton, New Brunswick, Canada. Dr. Dempster contacted us asking to confirm and document a story about SDB pastor Rev. Leon Maltby which has previously appeared in the pages of the Sabbath Recorder. Pastor Maltby, during his service in WWII as a chaplain in the Philippines, made a communion set out of unspent firearm cartridges. The reason he selected unspent cartridges was because he did not want to use something which had possibly killed a person to offer communion. Instead, he had the unused shells unloaded and made instruments of death into instruments of the proclamation of life in Christ. We were able to document the story for him, and he included it in his commentary on the book of Micah, which is due to be released later this year.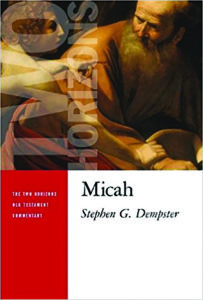 The final new book which provides more depth and insight into SDB history is Janet Thorngate's recent book on the Newport Seventh Day Baptist church. The book was officially released by Mercer University Press earlier this year. Official reviews are beginning to come in for this book — the early reviews indicate that Janet's work has uncovered new connections between the Seventh Day Baptists in Newport and the broader history of Baptists in general. This book is currently available from the Mercer University Press website (www.mupress.org), and from other major booksellers. We encourage you to purchase your copy directly from Mercer University Press, as only copies purchased from the press count towards the number that must be sold before the Council on History receives a royalty for the work. Janet has volunteered to write some short columns for this space in the coming months highlighting some of the more interesting findings from her work!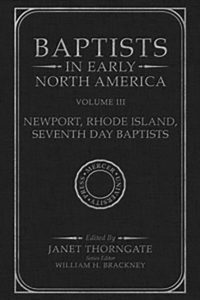 We will continue to provide assistance to researchers because we know that such assistance can provide a witness for Jesus Christ and for his work in the lives of Seventh Day Baptists! If you would like to receive assistance on your questions, please contact us. Very soon, a significant portion of the Society's collection will be available to search through our website. Watch this space for more details on this in the coming months!