Jan 23, 2017
This month, we are happy to print the first article submitted in response to our request for local church history stories! See the January 2017 Sabbath Recorder for more information or contact Nick Kersten if  you have your own story you would like to submit for consideration!"
By Donna Sanford Bond
SDB Church of Shiloh, NJ
"Ilou," Daddy said, "We've been called to New Auburn, Wisconsin, to help them build a new church. God is leading me to accept. I can keep writing The Helping Hand lessons there and we will have a real house with a new bathroom!" I was six years old and we lived in an upstairs apartment over a converted cheese factory in Independence, NY. The year was 1955.
So we loaded up our Studebaker, a two-wheeled trailer and a top carrier, and started our three-leg journey to a place where icicles would soon reach from the porch roof to the ground. First stop was Mommy's childhood home outside Jackson Center, OH, for Thanksgiving dinner. When we got ready to leave in the morning, Grandma Miars surprised us by adding her little suitcase and a bag lunch to the heap and piling in beside my brothers, Doug and Dean, ages 3 and 2, and me in the back seat.
After a weekend in Milton, WI, where my parents had met, we headed up Highway 53 and approached our new hometown. When we saw the 20-by-30-foot white structure across the "frozen tundra" adjacent to a pig farm, we speculated on which house held our "new bathroom." We were warmly welcomed by a work force, including Genny Pederson and her preschool daughters, Connie and Christine. Mommy's greeting was, "We have come to build your church."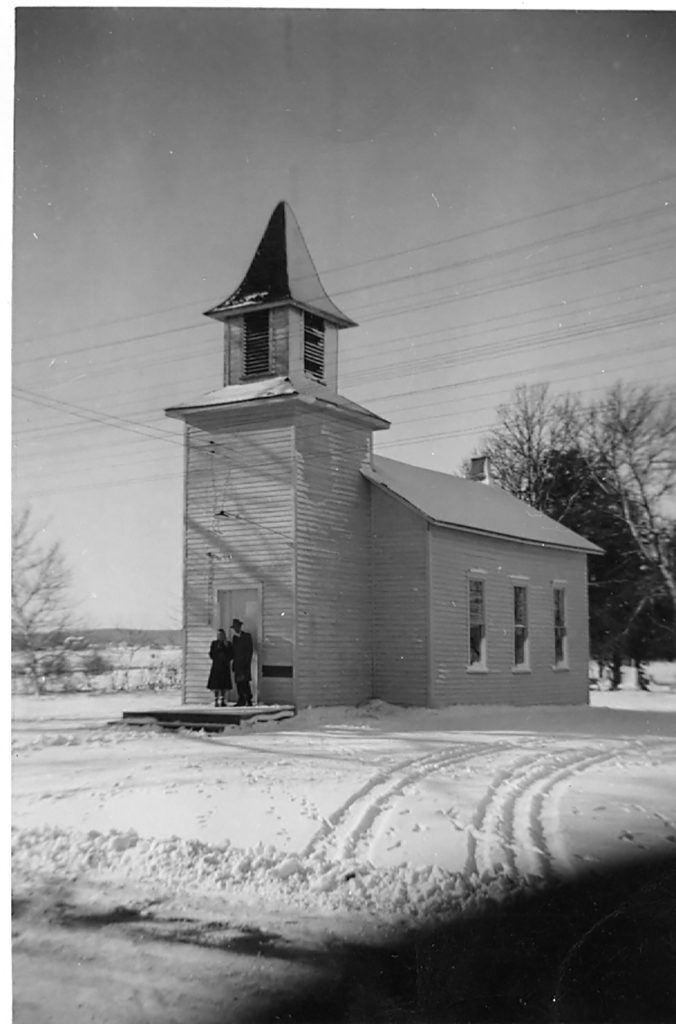 Upon examining the church record books, Daddy learned that the church had been talking about a new building for 40 years! At the first business meeting in 1956, the subject was again brought up. Elmer Nelson challenged the assembly: "Why don't you just give up the idea of building? You know you can't do it!" Was he using reverse psychology? Perhaps, for the church Moderator was his wife Helen! The motion to build was seconded and carried unanimously.
At a Divine encounter with someone from a neighboring town, Daddy learned of a church that was being torn down. Would it be possible for SDBs to recycle Congregational fixtures? For $625, the building "fund" acquired: stained glass windows with storms, all interior and exterior doors, inside and outside trim, basement windows, rest room facilities, furnace and hardwood flooring in the basement.
Daddy sent the specs of all of these items to his friend, Dr. Wayne Rood in California, an amateur functional church architect, asking for ideas on how to use the castoffs. Dr. Rood responded with blueprints and a scale model (read: "toy") of the beautiful church pictured here.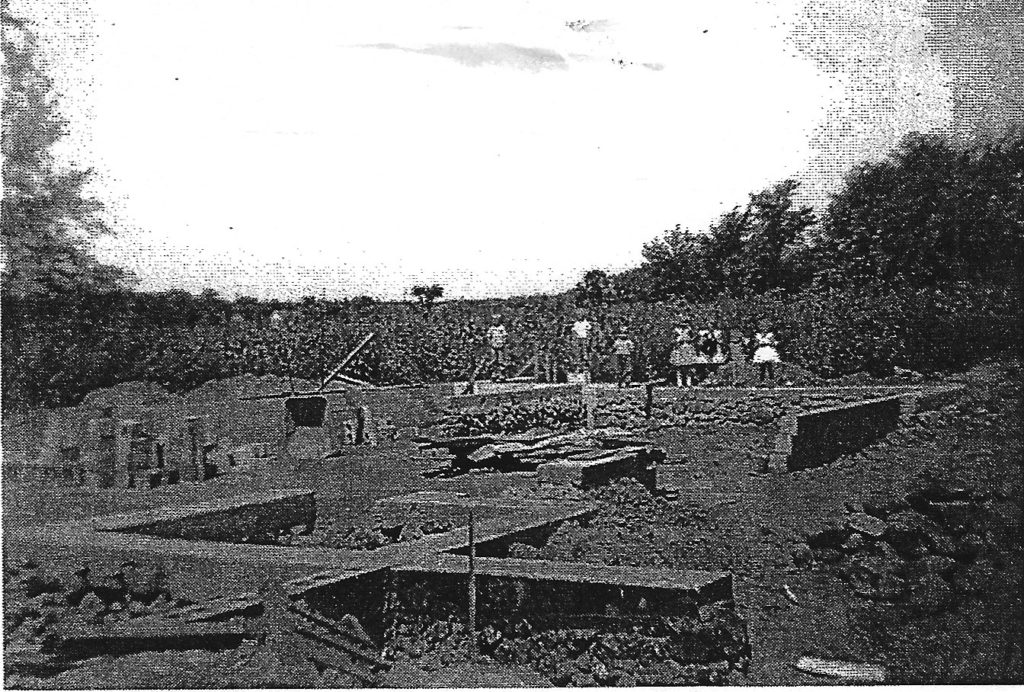 Dad's story is skillfully told in detail in The Autobiography of Don A. Sanford. Even as a child I could see God working through His people and the community at large. Ladies Aid fundraisers introduced me to "Preacher's Kid Lament": "No, sorry. The cake is not for us; it's for the church bazaar/ smorgasbord/bake sale."
Townspeople with special skills donated time and elbow grease. Previous pastor Dave Clarke brought a crew of nine young people from Colorado, including future pastor Melvin Stephan, to unleash their energy. After Grandma Sanford died, Grandpa came for a visit and dug trenches and laid ductwork. Jess Babcock, a retired mason and carpenter from Milton, and his wife Nina parked their camper in the churchyard three times and shared their talent. Even we children were allowed to paint a section of wall in the fellowship area. It was estimated that 5500 man hours were donated.
On October 12, 1957, the cornerstone was laid and a dedication ceremony was held. Prominently displayed above the platform was a cross composed of tiny interlocking blocks. Jess Babcock had resurrected the 2 x 4 stud from the entrance to the old church and crafted this memorial to the congregation's past.
By the grace of God and hard work, the New Auburn people had built a $40,000 temple in a tiny town of 300 working class inhabitants. The building was handicapped accessible 30 years before passage of the Americans with Disabilities Act. Other creature comforts of the church (and, for that matter, the parsonage) surpassed some of the members' homes in terms of electricity and indoor plumbing. It was truly a labor of sacrificial love.
In October 1968 we returned to New Auburn and watched Dad set fire to the mortgage document over a charcoal grill.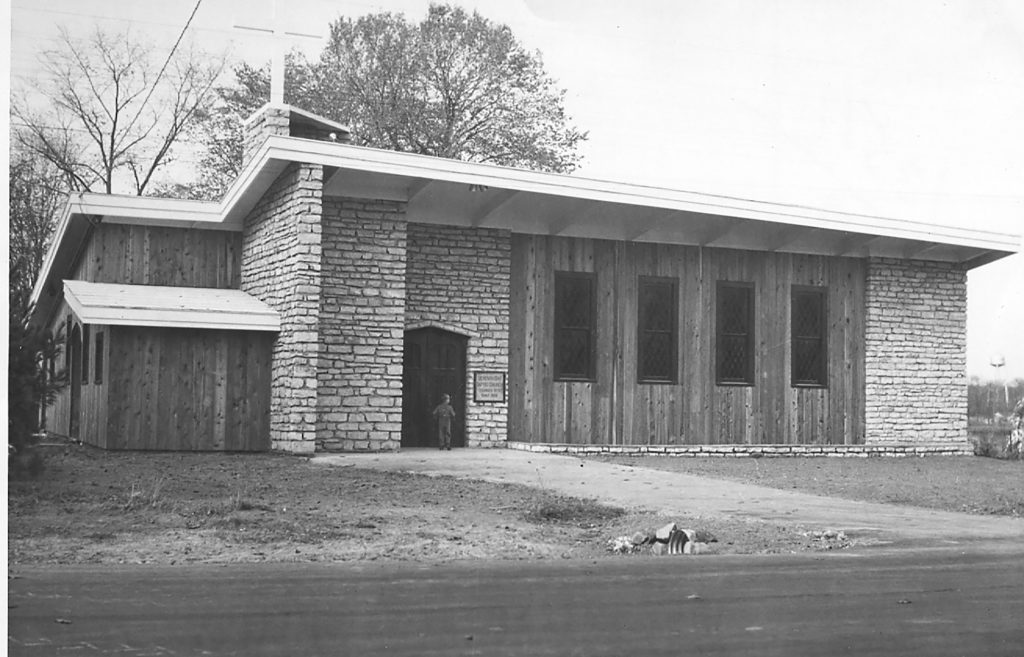 While the new building attracted a lot of attention to Seventh Day Baptists, the spirit of God's people has sustained this body for another 60 years. The interior was designed so that the worship area could be expanded into the fellowship hall and classrooms with a simple rearrangement of movable partitions. Still, there have been occasions when the congregation could really use even MORE space!
To God Be the Glory!