Jun 23, 2016
by Pastor Herb Saunders
There is a shrine in the French Pyrenees where people come to pray for healing. A war veteran who had lost a leg appeared at the shrine sometime after World War II. As he hobbled his way along the street to the shrine someone said, "Look at that silly man! Does he think God is going to give him back his leg?" The young man overheard the remark and turned toward the speakers and said, "Of course I do not expect God to give me back my leg. I am going to pray to God to help me live without it!"
As Christians we believe in "faith healing." "Faith healing" conveys its dynamic in physical, emotional, spiritual, and eternal certainties all experienced in God the divine source of life.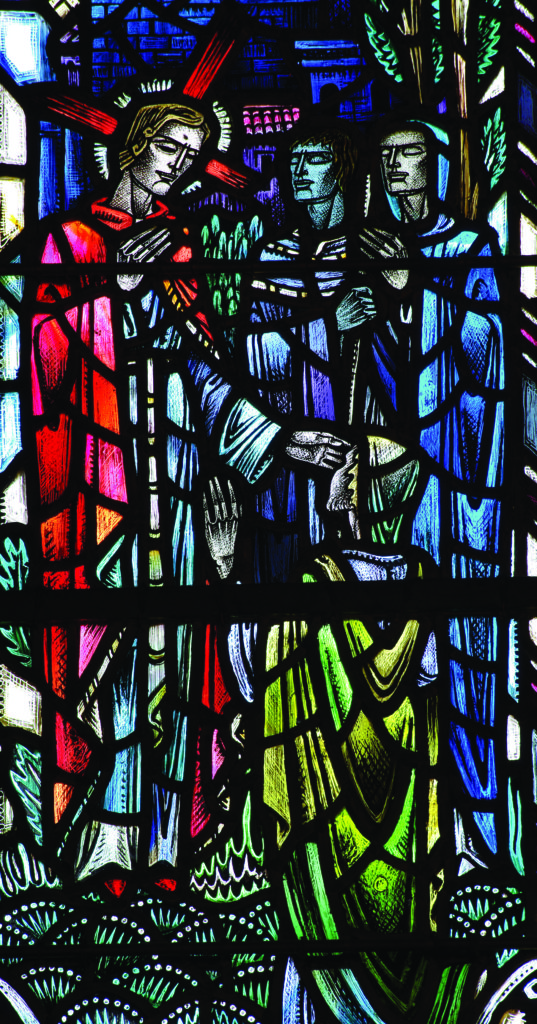 Healing can only be experienced through faith in the grace of God. The Apostle Paul, obviously a man of deep faith, had a "thorn in the flesh" from which he prayed to be healed. The Lord informed him God's "grace was sufficient." (2 Corinthians 12: 7, 9) Paul, obviously disappointed, praised God and prayed that God would help him live with that thorn. Perhaps this was one reason God provided the physician Luke to accompany him and minister to his physical needs.
The scriptures are resplendent with images of men and women physically and emotionally healed through faith. A woman touched Jesus' garment and was cured, a blind man asked to see and his vision was restored, a leper returned to Jesus to thank Him for healing his tortured body. To each of these Jesus said: "Go, your faith has made you well." (Matthew 9:22, Mark 10:52 and Luke 17:19) However, even our Lord Jesus while visiting His hometown of Nazareth "could not do any miracles there." Why? "He was amazed at their lack of faith." (Mark 6:4-6) Obviously, Jesus believed that faith was the catalyst for healing.
Faith is the spring from which physical and emotional healing surface. There are moments when, through the power of prayer and the faith of the oppressed, healing becomes an instantaneous and spontaneous event. We acknowledge it to be a miracle — something supernatural and extraordinary. We don't understand it and can't explain it. It is an act of God's mercy, grace, and healing power. God be praised!
God also provides other means by which one is physically or emotionally healed. When we become ill we search out those God has endowed with the ability to bring healing and wholeness. The goal of placing one's faith in a doctor is to get better or even well. However, as James writes, "faith by itself, without works is dead." (James 2:17) One who wishes to be well, must also in faith, do that which the doctor asks him to do: take the prescribed medications and endure physical rehab or mental exercises. This step, along with prayer, invites God to complete the healing process.
We also enjoy spiritual and eternal healing. We are spiritual beings, relying solely on God to guide and sustain us. When circumstances get out of control, God faithfully restores our spiritual energy and faith. We are "cured" of our selfishness, apprehension, misguided thoughts, worry, and fear. In faith we affirm our dependency on the only one who has the answers we crave. We are spiritually healed.
Being sincere as people of faith, we recognize that the supreme healing any of us may experience is that moment when this physical corporal life ends and we begin our life with God in the presence of our Lord Jesus Christ. Death is a portal to ultimate healing. As Christians we believe that awaiting us is perfect healing — complete healing — eternal healing. As Jesus said: "Let not your hearts be troubled…I go to prepare a place for you…and will take you to be with me where I am." (Jn. 14:1, 3) And we can praise God with the words: "I'm healed!"
Christians believe in "faith healing."
Pastor Herb is the pastor of the Madison, WI, Seventh Day Baptist Church. He has served as Dean of the Seventh Day Baptist Center on Ministry and as President of the Conference. He is married to Barbara and has three children and six grandchildren.