Apr 21, 2016
by Steve James
Pastor, Verona SDB Church, NY
In June of 2015, I had the privilege of being part of a missions trip to Kenya. I want to share with you God's good hand in this so that you may rejoice in what He is doing in this world; reflect on what you are doing in this world; and resolve to be a part of what God wants to do in this world through you.
The Past
The Kenyan SDB Conference began in 1973. The church I am blessed to pastor, the Verona Seventh Day Baptist Church, became involved in this work in about 2002. Two church members, Garth and Mayola Warner, visited the leaders of the Conference while on a trip to visit with friends serving in the Rift Valley region with African Inland Missions.
The Warners came back to Verona and shared their experiences with our church (as well as with our own Conference through a Sabbath Recorder article) and encouraged us to enter into a supportive role with the Kenyan Conference — which we did. This relationship continued for almost a decade. As Verona's pastor, I was supportive of their involvement, but never really "owned" the mission personally.
In 2009, I began to take a more "hands-on" role through entering into a relationship with Pastor Benard Moses, leader of the Kenyan Conference, through emails, phone calls and live chatting on Facebook. I sought to understand the work better through these exchanges, as well as to serve Benard as a mentor of sorts.
Ultimately this led to my being sent by the Verona church, along with the support of the SDB Missionary Society and others throughout our Conference, on a month-long missions trip to Kenya in June of 2012. This was a trip that I took by myself. I lived with Pastor Moses in his humble dwelling and served the Kenyan churches and leaders for approximately 30 days. The purpose was five-fold: to experience life as they live it; to equip the leaders; to encourage the laity; to evangelize the lost; and to establish a stronger link between their Conference and our own (and also with the Conferences of the SDB World Federation).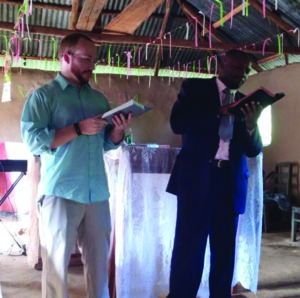 A Promise
Having never been overseas, nor on a missions trip of any kind, this experience was totally brand-new to me. I wanted to be used of God for the purposes mentioned previously. I feel that His name was hallowed, His will was done and His kingdom did "come" in a variety of ways through what took place.
It was truly a blessed, and at times stressed, four weeks. As a result, my life has been forever changed. The life of the Verona church, when it comes to missions, has been deeply affected. And the life of the Kenyan Conference has been greatly impacted.
Special relationships were formed; some foundational steps were taken to lift the hearts and hopes of both the leaders and the congregations; and a promise was made.
While some have said that four weeks was a long time — it wasn't long enough to do enough. Both the leaders, the churches, and I all realized that we were just getting started. Seeds had been planted that would need further watering, cultivation and the blessing of God in order to grow and flourish into all that God desired.
And so I promised that at some point I would come back, and I wouldn't come back alone.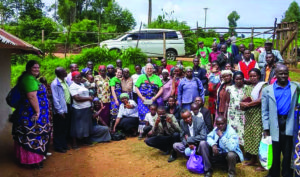 Partnership
I returned to the U.S. and was blessed to be able to share my experiences with my church, as well as with the Alfred Station SDB Church and with our Conference. Throughout this time, others personally expressed an interest in going with me the next time. This was encouraging as I knew that there was more to be done — and it was more than just one person could do.
While I maintained an ongoing and sometimes daily connection with Pastor Benard, and while our church continued their ongoing supportive role with the Kenyan Conference, I focused back in on my role as a pastor — which is my heart's passion. However, in the back of my mind was the promise I had made to the Kenyan people. I knew that at some point there would be a trip back.
During 2014, through conversations with Clint Brown, as well as with my wife and another member of our church, it was becoming obvious that God was putting together a team for a return trip. I was hearing of others who wanted to be used of God wherever He wanted to use them on a short-term missions trip. It was becoming clear that His plan was to work in them and through them to serve in Kenya. I was soon asked if I would lead this team.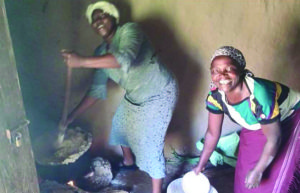 We were a mix of unique individuals: three were in their 20s and three were in their 50s. With the exception of my wife and a young lady from our church, none of us knew each other. We were all unique in our experiences as well as in how we expressed ourselves. We came from various parts of the country: upstate New York, southern Florida, and the great state of Texas.
Yet, with all of this diversity, under the graceful and wise leadership of both Garfield Miller and Clint Brown (through the means of emails and online team video meetings), these individuals, as unique as snowflakes, were being formed by God's incredible hands into a "snowball." He was going to roll it into Kenya to squeeze refreshing drops of His goodness into many lives for His glory.
Purposes
The purpose for this return trip took shape based upon the "shape" of those who made up the team. It became apparent that God wanted to further equip the leaders and encourage the laity through the ministry of His Word — so He called Kory Langley with his gifts of pastoral teaching and leadership. God wanted to bless the Kenyan children with His Word, His joy and His love — so He called Amanda Langley, who had teaching and crafting gifts; and Caroline Snyder, whose sweet, loving heart was as big as the ocean we had to cross. It appeared that God wanted to bless the hearts of the people with the musical heart and art that He had gifted Marleigh Fiacco with. God wanted to equip and encourage the women of the churches with practical skills that would help support their families as well as their churches — so He called my wife, Debbie, to share her gift of sewing. I was to serve as the team leader, in addition to using the gifts God had given me in whatever way He saw fit.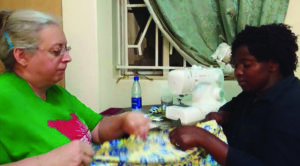 While these were the purposes we sensed going in, God had additional purposes that we were yet to realize — purposes not only for the people we were going overseas to serve, but purposes and plans affecting each of us.
Problems
The purposes we sensed as being from God all looked good on paper. However, when one embarks on such an undertaking, there will always be problems that take place. These are also a part of God's purpose. When an undertaking such as a missions trip involves a team — those dynamics multiply.
There were changes in some of "our" plans. The scope of ministry to the children and through music turned out to be less than what was projected due to school schedules and other factors. Amanda and Marleigh became ill for a brief time, resulting in "nurse Caroline" serving them while Kory and I filled in on a planned children's afternoon. Debbie had a bout of bronchitis that took her voice, resulting in Amanda helping her with the sewing times. Marleigh's glasses were permanently lost towards the end of the trip — resulting in us guiding her as needed. Debbie badly sprained her calf muscle, hampering her mobility — resulting in us assisting her as we moved about the country.
Power outages, unusual foods, interesting encounters with the local people, and long, bumpy trips were also things we encountered. And yet — all of these "problems" were part of God's purposes for our trip, as much as all of the praises that we experienced.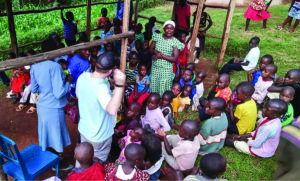 Praises
Time of teaching and preaching, using specially-provided leadership Bibles, greatly equipped and encouraged the leaders and people. Crafts, teaching, and silly songs brought many children great joy. Special songs touched hearts. Practical sewing skills lifted spirits and brought a sense of community. Expressions of love, care and joy bathed many of the moments we had as we gathered with groups of children, with churches, and with an HIV-AIDS community of believers.
We even had a "day" to ourselves where we enjoyed a "game park" (a zoo), some local cuisine and a leaky boat-ride along the shore of Lake Victoria with hippos swimming close by.
Progress
When we left Kenya after just a little over a week of being
"on the ground" serving the people, even though it was a team effort — we came away feeling like there is still more to be done.
However . . . we praise God for the fruits of His goodness that are being produced to this day! The leadership Bibles provided are being used regularly — and more of these are needed to further increase the impact of God's Word. An orphanage ministry is being birthed through the efforts of Caroline Snyder, her husband, the Kenyan Conference leaders, and the Missionary Society. Plans to bring Benard and his wife, Dorcas, to the U.S. are underway with the hopes of having them here for Conference in Houghton and to visit the respective churches represented by our missions team. An electric sewing machine, along with many supplies and instructions for non-electric sewing projects left in Kenya, continue to be utilized by Dorcas and others as they increase their skills.
Pray – Provide – Participate!
In closing, as the "point person" for the Kenyan Conference on behalf of the Missionary Society, as well as the "official" ambassador to you on behalf of the Kenyan Conference, I would encourage you to pray for the work of our SDB brothers and sisters there. I would encourage you to seek ways to provide for their work, whether with financial support through the Missionary Society, or with practical things such as Maxwell Leadership Bibles and sewing supplies. And I would encourage you to personally participate in serving this Conference on a short-term missions trip with the gifts God has given you! Who knows? Perhaps I will have the privilege of teaming up with you in the near future!