Mar 18, 2016
by Rev. Gordon Lawton
Boulder, CO, Seventh Day Baptist Church
Zambia is a beautiful country in south-central Africa. It borders eight different countries, one of which is Malawi on the East. Pastor Carlton Ferguson, from Jamaica, and I were selected to go in June of 2015 to initiate teaching the T.I.M.E. program to their pastors. Preparation included choosing the classes to be taught, making sure that we had current inoculations, up-to-date passports and the visa requirements.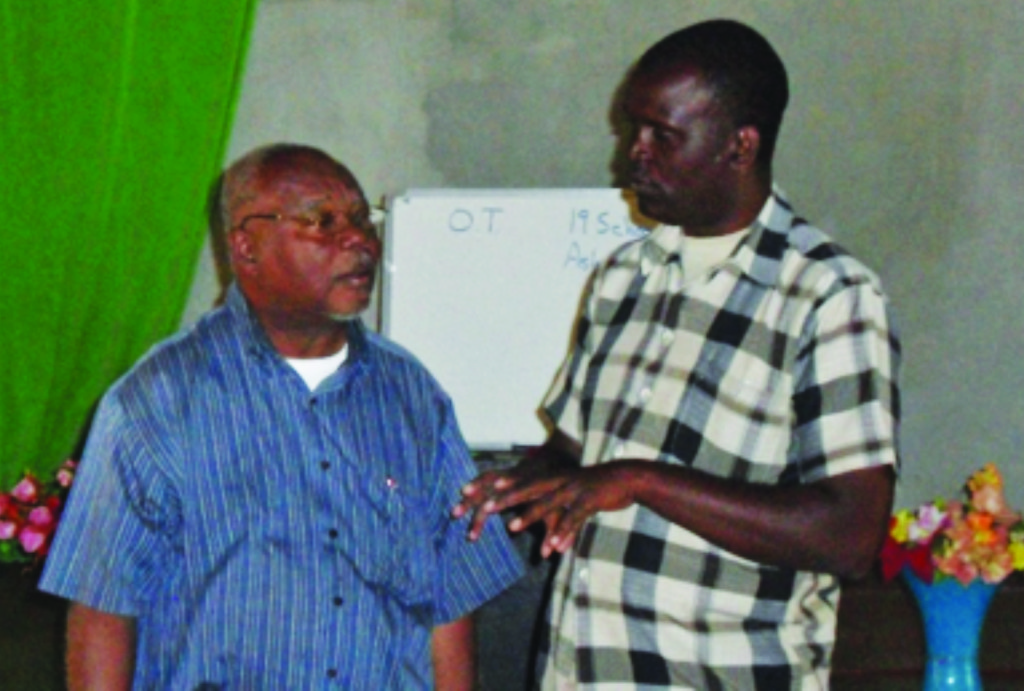 The normal order of the T.I.M.E. Program modules starts with Old Testament and New Testament classes. Missionary Society Executive Director, Clinton Brown, gave me latitude to choose a different module. I chose Bible Interpretation as I had worked with that module before. I thought having some tools for interpreting the Bible would be helpful from the beginning. Pastor Ferguson, Principal of the Jamaica Bible Institute (JBI), for ministry training in the Jamaican Conference, taught Old Testament.
Traveling a third of the way around the globe takes some time. My flight from Denver to Dulles, outside of Washington, DC, was a red-eye flight. I arrived in the morning and waited for the international flight to Africa. Pastor Ferguson had flown up from Jamaica the day before and we met at the gate for our flight to Africa. The flight from DCA to Addis Abba, Ethiopia, was 13 hours, and then we connected to a five-hour flight that took us to Ndola, Zambia. From Ndola, it was about an hour drive to Kitwe where we stayed and where the classes were.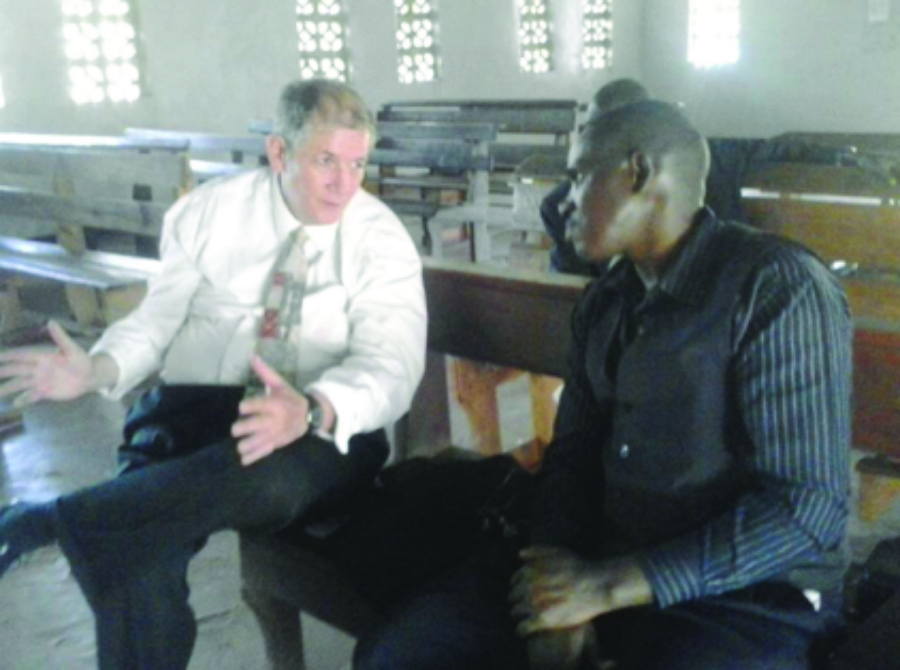 The part of Zambia where we stayed and taught was urban. Kitwe is a major city with a copper mine to the southeast. The roads are paved and, in some places, four lanes wide. There are lots of people, vehicles and bicycles. Pastor Ferguson noted that Kitwe was very much like Jamaica: people all over the roads, driving on the left. Zambia time is like Jamaican time. Sunday to Friday, we were scheduled to begin at 9 a.m. It was more like 10 a.m. when we began; so we were an hour, more or less, off the schedule for the rest of the day. We did work at getting the six hours of class time in each day. Usually we went until we lost daylight — sometimes a little past, using a flashlight to be able to read our materials. There were lights in the SDB church building bright enough to get around, but not bright enough to do a lot of reading.
We arrived on Friday and were met by Quisten Chalwe, the leader of the SDB Zambia Conference, and his two children. We rode from Ndola to Kitwe where we were taken to the guest house of the Faith Orphanage. Sabbath keeping Christians in Zambia contacted the SDB Missionary Society 30-40 years ago. The leader then was Pastor Mucumbo. His daughter Faith runs the orphanage where we stayed. Another daughter, Charity, runs a nursery school nearby. A son, Frey, works at the orphanage and was an excellent translator, as was Quisten, who is a nephew of Rev. Mucumbo.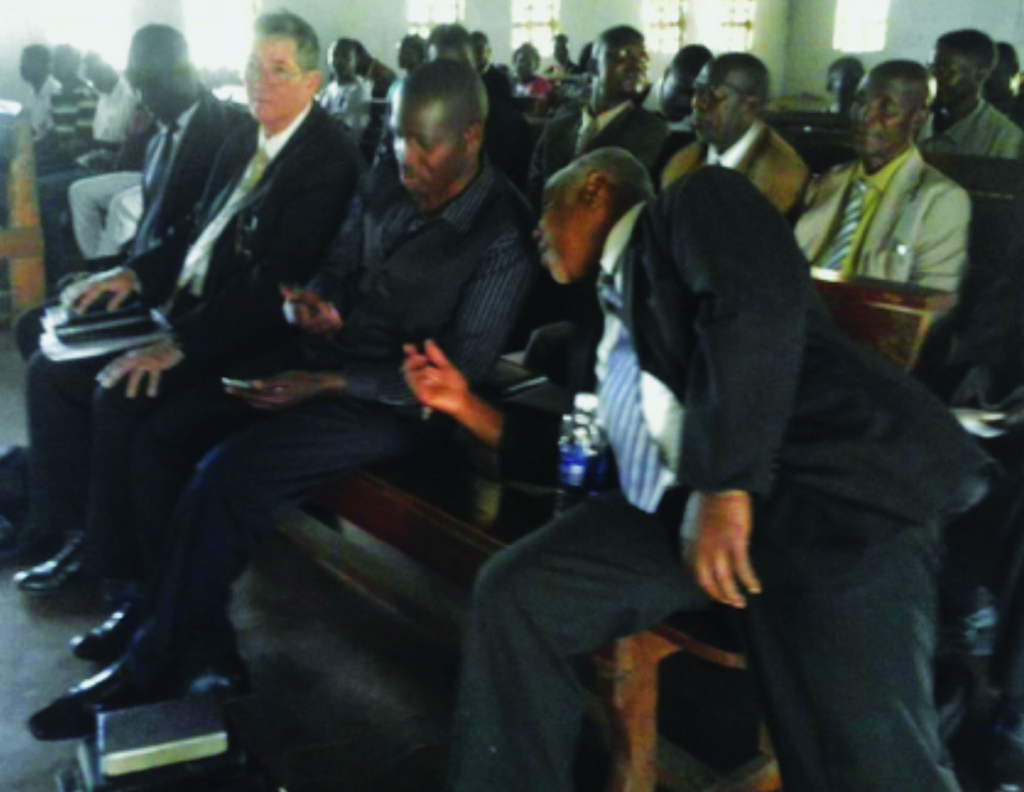 Sabbath we attended the Buchi SDB Church there in Kitwe. (Buchi is an area of the city about two miles from the orphanage). I spoke at Sabbath School and Pastor Ferguson brought the message in the time of worship. Sabbath School began shortly after 10 a.m. About 11 a.m., I was asked to present. About noon we merged into the worship service which was completed about 3 p.m. I spoke on "Seeing with God's Eyes" from 2 Kings 6:8-23; Pastor Ferguson spoke on Peter's restoration from John 21. After a trip back to the Orphanage for lunch, we returned to the Buchi church facility (meetinghouse) and met with about eight pastors. During the week to come, we had some very faithful participants; there were others that were able to only be there for part of the time. Quisten sent me a list of 22 persons who had been present at least once during the week. Nine were from the Buchi church and twelve other church locations were represented. We discovered that although most of the pastors spoke English, they were more comfortable with their local Bemba. Quisten and Frey did most of the translating for us. We even had one pastor who was raised in the Democratic Republic of the Congo who spoke French and Bemba. He did well since another pastor, who spoke English and Bemba, translated the readings from English into Bemba so that he could understand. Knowing how to say just enough so that the translator can pass it on is sometimes a challenge.
The materials for Bible Interpretation arrived before we did and the participants had prepared. This made it possible for us to proceed with the seminar materials that used the lessons learned. I did have to remind and clarify some, but we made good progress. In Bible interpretation it is important to understand what is being said based on the context. So I had some Bible verses that are often quoted and sometimes used out of context. Revelation 3:20, "Behold I stand at the door and knock…" is often used in presenting the gospel to an unbeliever; however, in context it is Jesus speaking to believers in the church at Laodicea who were lukewarm. One other was Matthew 6:33, "Seek first his kingdom and his righteousness and all these things will be added to you as well." This is sometimes quoted to encourage people to seek God first and then they will get cars, houses, cash, etc. Certainly we should seek God first. The context, however, is that if we seek God, He will provide food, clothes and liquid to drink because we are more valuable to God than birds and flowers. We also had times for answering questions that the students had. We explained several times about salvation by grace through faith. I referred to Ephesians 8-9 and then verse 10. The good works are for us to do but are not a condition of our salvation. If we build on the foundation of Jesus Christ, we will be saved (1 Corinthians 3:10-15).
Pastor Ferguson's Old Testament materials did not arrive early so he began at zero. He worked hard at presenting and requiring reading. God worked it out so that he had more time. I got sick Wednesday and was out through Friday — so he had all the time for his class. He did get through the material and we had covered my material Sunday through Tuesday. I was able to be back at Buchi for church and again did Sabbath School with Pastor Ferguson preaching. He is a gifted preacher.
Sabbath afternoon, we had a closing session with a quiz. The winner was given a Gospel Feet 5 K T-shirt from the USA Conference 2013, where money was raised for transportation for their pastors. The pastor of the Buchi church still uses his bicycle. We said goodbye. Sunday morning we did tourist shopping and then were off to the airport for our return flights.
I am so thankful for the opportunity to serve in this way, for the other leaders who have continued and are continuing with the training mission, and for the dedicated leaders in Zambia who are learning to become more effective leaders there.