Feb 22, 2016
by Clinton R. Brown
Executive Director
Wherefore seeing we also are compassed about with so great a cloud of witnesses, let us lay aside every weight, and the sin which doth so easily beset us, and let us run with patience the race that is set before us, – Hebrews 12:1
The course is half completed with three of our two-man training relays having completed their turns. Gordon Lawton (former Director of Pastoral Services in the USA and Canada Conference) and Carlton Ferguson (Principal of the Jamaica Bible Institute: JBI) were the first to take the baton as presenters for ministry training in the Jamaican Conference. They covered modules in Biblical Interpretation and Old Testament Survey from June 17 to 30, 2015.
They were followed by Brent Hannah (pastor of the Salem SDB Church in West Virginia) and Ian Ingoe (pastor of the West Auckland Seventh Day Baptist Church in New Zealand). They flew from two different directions to Zambia on October 1 and left on October 7 after training the leaders in Fundamentals of Christianity and New Testament Survey.
Our third team, took up the task of teaching on Church Administration and Leadership, as well as Spiritual Maturity and Tithing. Jon Gerstel (of the Berlin SDB church in New York state) accompanied his pastor, Matt Olson. They arrived in Zambia by way of Albany, DC, and Johannesburg on the 15th of January, 2016. By the 19th they had completed their seminars, spent time in worship, fellowship, and question and answer sessions, and were on their way back to the USA.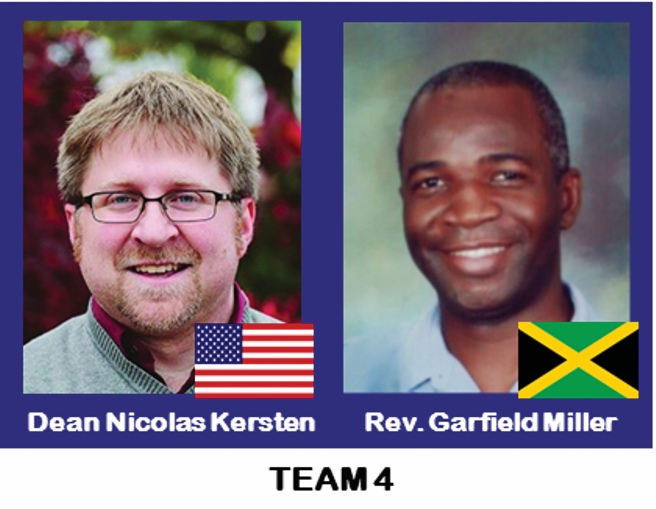 Three teams remain with a couple of slots open. However, we have Nick Kersten (Dean of the School of Ministry for the Seventh Day Baptist General Conference USA & Canada) slated to partner with our own Garfield Miller (Missions Coordinator for the Missionary Society in Kingston, Jamaica). Together they are to cover Christian Education, SDB History, and SDB Polity, as well as a brief review of the previous three sessions. Their trip is scheduled for March 31 through April 10. They need your support and prayers to get there, guide the students into a better understanding of following Christ as Seventh Day Baptists, and have safe travels home.
This project was kicked off with the Ties that Bind Gospel Feet 5K walk/run at the 2015 General Conference meetings in Lancaster, PA. At the writing of this article we are still running short about $2,500 to keep the project fully funded. Everyone is invited to partner in this project, as a trainer, prayer partner, or sponsor. We need your help for us to finish strong.
Missionary Society Annual Meeting
The annual meeting of the members of the Seventh Day Baptist Missionary Society will be held at the Missionary
Society Office, 19 Hillside Ave., Asha­way, RI, on Sunday, March 20, 2016, at 2:00 p.m. for the following purposes:
• To elect voting members, a Board of Managers and
officers to hold office until the next annual meeting and
until their successors are elected.
• To hear and act upon the reports of the Board of
Managers and officers for the fiscal year January 1, 2015,
to December 31, 2015.
• To ratify the appointment of in­dependent public
accountants for the current fiscal year.
• To consider and act upon such other matters as may
properly come before said meeting or any adjournment
thereof.
The Board of Managers has fixed the close of business on February 29, 2015, as the time at which members entitled to notice thereof and to vote at the meeting and any
adjournment thereof shall be determined.
— Kathy Hughes, Secretary