Feb 22, 2016
by Julia Coleman
SDB Church of Shiloh, NJ
We are given the responsibility to testify to the world of the freedom Christ has brought to us through His propitiatory act on the Cross. Seeing Jesus during the time of the Crucifixion from the perspective of three women in the Bible gives us an insight into who Jesus is, the value of the Cross, and what He did in changing their lives and ours for all eternity!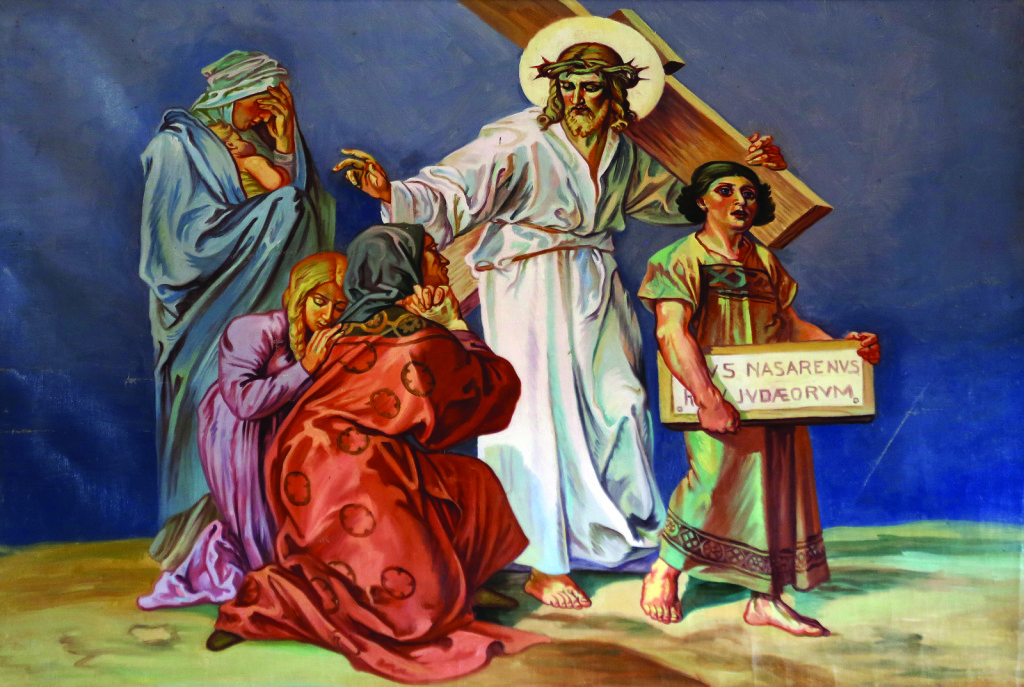 I moved among the crowds, watching the sequence of events and remembering how different, painful and sad my life used to be — how much things had changed when this Man came into my life! I am not the same. Instead of hiding in the shadows, I freely moved through the people who were now shouting, "Crucify Him! Crucify Him!" Pontius Pilate, the Governor, stepped forward, "Why? What crime has He committed?" The crowd shouted even louder, "Crucify Him!" Pilate washed his hands in front of the crowd. "I am innocent of this Man's blood. It is your responsibility." Pilate's soldiers took my Savior, my Healer, into the soldiers' Praetorium where I watched them strip Him, put a scarlet robe on Him, force a crown of thorns on His head, and mock Him: "Hail King of the Jews." If they only knew; if they only knew how much more He is. I held back the tears, the piercing in my heart, fighting not to hate but to love as He taught me…as He taught us. I pushed my way through, wanting to see what was going to happen next. They spat on Him and repeatedly struck the crown of thorns on His head with a staff. Blood ran down His face, scarlet like the robe He wore. The soldiers thought this was a game. I heard myself say, "No, stop that!" but nothing came from my lips. A tear ran down my cheek. You see, I am a woman among a society ruled by men. My voice is silent here! Heartbroken, I watched my Messiah take insult after insult. What is happening? He is being tried. For what reason? For being kind, for healing the sick, for feeding the masses, for teaching us amazing mysteries of GOD, for casting out demons from the tormented, for looking on a woman like me?
Looking to my left, I saw another woman pushing her way through the crowd; our eyes met and it was as if we knew how much Y'Shua, the Messiah, meant to each other. We looked ahead and the two of us saw another woman moving through the crowd as well. The third woman shared the same expression, the same understanding, the same love for Him — the same freedom. We each inched our way, closer, closer to see what was going on. Oh, what He meant to us! What He did for us freed us beyond belief. Each one of us had a story of freedom.
I was the first. He came to mytown on His way to Galilee. It is known every Jew avoids my area. We are the half-breeds, the outcasts. It was the hottest time of the day and I, in my shame, avoid the women who come in the cool of the morning to draw water. I had enough of their snickering, their judgmental hypocritic, holier-than-thou life. So what? I made many mistakes, six to be exact! There He was sitting by Jacob's well alone. Okay, this morning is different! I hesitated. But this was a Man I had never seen before. What was He doing here? The men are off working, farming. I should be alone here; me and my thoughts keeping me company. Well, I must go on. He spoke to me! What?! He asked me kindly and nicely for water to drink. Could this be the husband I have been looking for? But wait, He is a Jew and I am a Samaritan woman. He turned towards me and said the most profound thing I had ever heard: "If you knew the gift of GOD and Who it is that asks you for a drink, you would have asked Him and He would have given you living water." He wanted me to know that I might ask for natural water, as what comes from Jacob's well, but He would give me much more? He would give me living water? I want that gift of GOD that allows this Man, if asked, to give me living water. I want this living water. I observed that He did not have anything to draw the water which was deep in the well. And surely, Jews do not use Samaritan utensils. Not understanding, I asked, "Where can you get this living water? Are you greater than our father, Jacob, who gave us the well and drank from it himself, as did also his sons and his flocks and herds?" I mean, who does He think He is? Another profound statement, spoken with authority! He did not sound like the rulers and religious men I knew. He told me that drinking from Jacob's well will mean I will be back for more water; in a way, living the same hidden life, the one I have lived for so many years. He was offering me a New Way to live. I wanted this more than anything! I have lived a life of shame as I look for love in all the wrong places. I simply want to be loved. Then, He told me something He should not know — unless He is…a prophet, the Messiah, the Christ? I know the Messiah will explain all things to us because Samaritans and Jews argue about on which mountain we are to worship the Father. He taught me of worship in Spirit and Truth, not the mountain, not Jewish or Samaritan ways! That together we will worship the Father in Spirit and in Truth! Then, He revealed Himself! The Messiah was here! The Messiah was here! I no longer felt shame, nor did I want to hide. I ran to my town calling my neighbors, "Come see a man who told me everything I ever did. Could this be the Christ?" Everyone came out to see Him. I found true love, the Messiah's love!
I lived a life in the shadows. The Levitical Law says I am ceremonially unclean. I must not be seen among or with anyone as long as I have this existing condition. I am so lonely, longing for human touch, sympathetic hands! I can't even go to GOD and offer sacrifices. I can't go to the priest because I continue in uncleanness! I am broke — spent all I have for treatments from men who call themselves doctors; I had to find a way to get better. I only suffered more and more and got sicker and sicker. What a life! Outcast, yet a Jew! I hear He is coming here. Talk has been around town of His healing power, that He healed everyone who was sick in Galilee. I need to see Him. I must get to Him. Oh, my, there He is! So regal, gentle, kindness all over His face. Let me hide! I am not supposed to be here and if seen and recognized, I could face being stoned. He is going with this man, Jairus; I recognize him. He is one of the Synagogue rulers. Wow! Jairus is asking Him for help for his dying daughter. This is my chance! All I need to do is touch His Tallit. The tassels of His Tallit (called Kalah) are sufficient; I know His power is all over Him, even in His Tallit. But I must go unnoticed. Yes, the crowds will provide a good cover; so many touching Him, He won't know who touched Him. Wiggling my way through the crowd, getting close enough to come up behind Him, I reach out, stretch my hands beyond those in front of me; closing my eyes, I pray for His Healing power to be mine today — believing! What just happened? I feel different; the bleeding has stopped. I am free! I am free! I am amazed! Praise GOD! Then the unexpected happened. "Who touched my clothes?" He asks. I only touched the kalah of His Tallit. There is no way He knew I touched Him. There are so many people around Him. How did He know? He's looking around. Oh, no! I can't hide anymore! The Messiah knows! I fell to His feet trembling with fear, I told Him the whole truth. "Daughter, your faith has healed you. Go into Shalom [wholeness] and be freed from your suffering." That's it! No stones! Go into the Shalom He has given me? I am freed from my suffering. I will follow Him!
I am the third woman. My life was one of respect and dignity. Yet, I was unsatisfied, disgruntled with my husband. I was caught in the act, pulled from the shadows, from the arms of one I thought I loved. New love! Dragged to the temple courts; put on display for all to see; forced in my shame to stand before everyone! And there He was, sitting among them, getting ready to teach. The Law of Moses says I am to be stoned. "Now what do you say?" This was the question asked of Him; I don't even know His Name. He calmly bent down and with His finger started to write on the hard, cold, cobbled stones. He said nothing for a few minutes but continued to write. What is He doing? Why are they asking Him this question? This is a matter for the Jewish rulers to decide about my stoning. Who is this Man? They peppered Him with questions. When He was ready, He stood up, poised and regal. I am dead now! "If any one of you is without sin, let him be the first to throw a stone at her." He once again bent down and wrote on the ground. I tried to see what He wrote. You should have seen the look on their faces! One by one, they started to leave; the older ones first. I fell to my knees sobbing, preparing to die by stoning, drowning in my shame! What have I done? One moment of pleasure now costs me my life. Bracing for the pain, nothing came! I waited for what seemed like an eternity. Then I heard a voice, "Woman, where are they? Has no one condemned you?" I opened my eyes to see only this Man remained. Amazed, I said, "No one, Sir." Sweetest words I have ever heard came to my ears, "Then neither do I condemn you. Go now and leave your life of sin." The teachers of the Law would, but they could not; He could, but would not! Such grace! Such freedom!
Together, we watch as our LORD is beaten beyond recognition, mocked, spat upon, treated like less than a human, when He has been the most humane to those like us three who deserve to be stoned! He risked His status as a Jewish male to talk with a Samaritan woman, to extend healing to a ceremonially unclean Jewish woman, and to give the gift of no condemnation to a Jewish woman caught in adultery. Every nail pounding in His hand runs ripples through my spine, every hit resonates in the air! He yells with pain as He is tortured! Jesus, we know Your Name! We don't understand everything that is happening, but we three can testify of the Love of the True and Living GOD in His Son, Y'Shua. The soldiers cast lots for His robe; the very same one I saw Him wearing at Jacob's well; the very one He wore when I touched His Tallit; the exact one He wore when He extended His hand to me — the touch I so longed for. Covered in His blood and wearing only a loin cloth, He endures a punishment He does not deserve! The soldiers take turns watching Him. Above His Head, they place a placard with the inscription "THIS IS JESUS, KING OF THE JEWS"in all the known languages of the time. The Jews get even more agitated, yelling for the sign to be removed.
The time is growing near! We can see Him growing weary! Father, give Him strength. He is asking why You have forsaken Him. Listen! He said, "Kalah" (finished, accomplished, achieved) at the same time the High Priest declares the sacrifice at the Temple is finished. He has breathed His last breath. Oh, My Savior!
What is happening? An earthquake! We learn later the curtain in the Most Holy Place ripped in two, the altar was broken, and many holy people were coming out of their tombs, raised to life immediately after Jesus said "Finished," and breathed His last. To even further the excitement, we hear that He is risen now. It's been three days! He should be as good as dead! Yet, we hear of testimonies of those who have seen Jesus and the holy people, freed from death! What a glorious time to be alive! We are free! Freedom has come! Glory to GOD! We understand the Messiah came to set us free from sin, showing us the LOVE of the Father. His death paid the price and now we experience the full meaning of what He came to do. Freedom in Christ!
The three women in focus had one thing in common:they should be stoned! One looked for love in all the wrong places. She was guilty on six counts The other needed physical, psychological, and financial healing. She was guilty on twelve counts. The other needed condemnation removed. She was guilty on one count.
No matter how long we have lived without acknowledging His love for us, He died for us! Freedom in Christ is a step away. These women found freedom in the prospect of Jesus dying. We find freedom in retrospect! He has died. Romans 5:7-8 says, "Very rarely will anyone die for sa righteous man, though for a good man someone might possibly dare to die. But GOD demonstrates His own love for us in this; While we were still sinners, Christ died for us." The story does not end here. He also was raised to life for us! Romans 8:10-11, "But if Christ is in you, your body is dead because of sin yet your spirit is alive because of righteousness. And if the Spirit of Him who raised Jesus from the dead is living in you, He who raised Christ from the dead will also give life to your mortal bodies through His Spirit who lives in you." He is Risen! Do you know what that means? As you remember in this time who Jesus is, remember who He did it for and why. It was for you. "For GOD so loved…" John 3:16. Powerful word, "so"— signifies intensity, not quantity. Praise Him today! He is Risen! Hallelujah!