Nov 24, 2015
Put on the Full Armor of God
by Pastor Nate Crandall
Milton Seventh Day Baptist Church
Third in the sermon series by Pastor Nathan Crandall from the Seventh Day Baptist Church in Milton, WI.
IF we are to stand against the evil schemes of the devil, we must do so by putting on God's armor. Last month we learned that the armor of God is simply Christ Jesus himself. When we trust Christ with our lives and our eternity, in the spiritual realm He covers us. Galatians 3:27 says, "For all of you who were baptized into Christ have clothed yourselves with Christ." That baptism is not the mere act of going under the water but it represents complete trust in Jesus to redeem us.
However, putting on Christ or putting on God's armor is not a passive activity. We must be fully engaged in the process. Romans 13:14 says, "But put on the Lord Jesus Christ, and make no provision for the flesh, to gratify its desires." The same command, using the same exact verb, is found in Ephesians 6:11, "Put on the full armor of God, so that you will be able to stand firm against the schemes of the devil."
It may seem like our goal in the Christian life from these verses is simply to stay away from evil. If this is our only focus, then we will be distracted from our ultimate purpose, which is to bring glory to God in everything. We stand firm against the evil one not simply by resisting sin but by becoming like Jesus. To put on God's armor or to put on Christ is to become like Him. As we fix our eyes on Him, "the founder and perfecter of our faith" (Hebrews 12:2, ESV),we become more like Him in truth, in righteousness, in peace, in faith, in the true knowledge of redemption, in the word of God, and in prayer.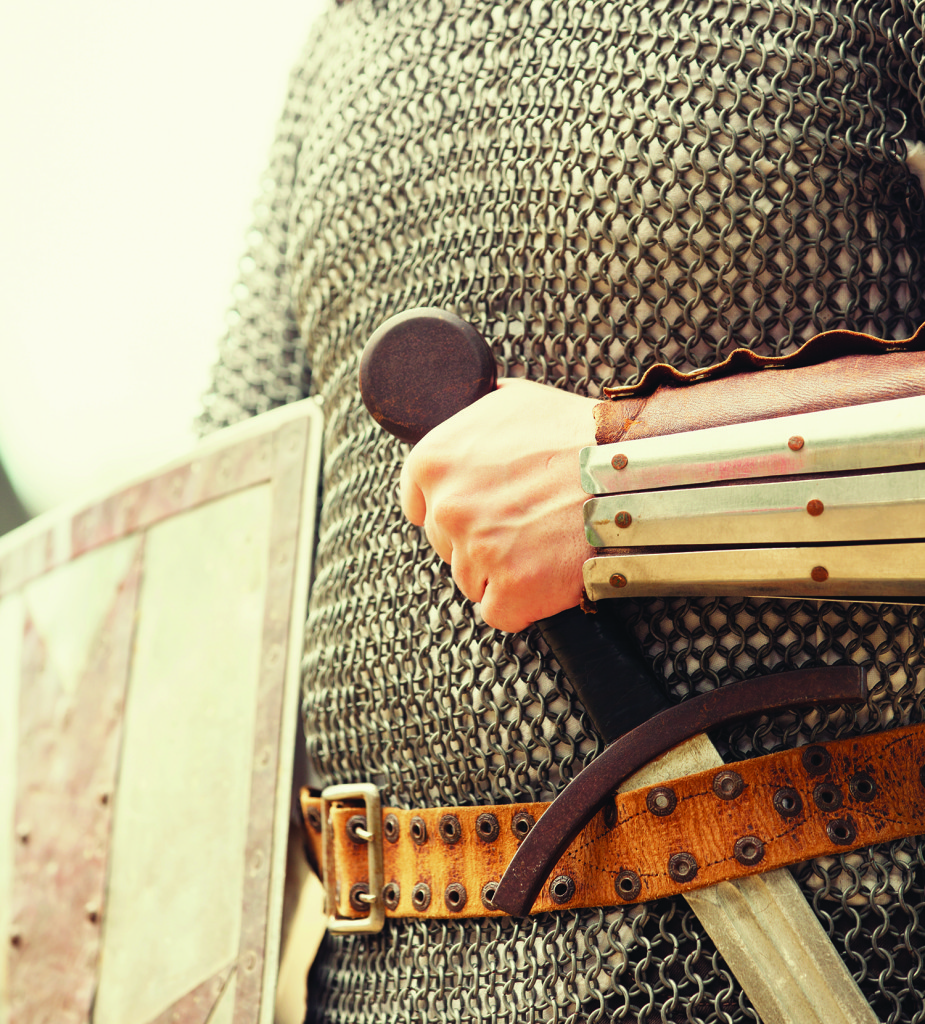 We are strong in the Lord as long as the Lord is our strength. The Lord is our strength means that He is our armor. Truth is not a concept. Jesus is truth. Righteousness cannot be defined without Jesus because He is the righteous one. You cannot opt out of becoming more like Jesus if you are a Christian. Either you resist the work of His Spirit in your life, and in so doing you make your life miserable, or you work with the Spirit, putting on Christ, standing firm against the evil one by being like Jesus, and reveal God's glory through every part of your life. All spiritual warfare comes back to the Lord's ultimate goal of bringing us into conformity with the character and the image of Jesus Christ.
"Finally, be strong in the Lord and in the strength of His might. Put on the full armor of God, so that you will be able to stand firm against the schemes of the devil. For our struggle is not against flesh and blood, but against the rulers, against the powers, against the world forces of this darkness, against the spiritual forces of wickedness in the heavenly places. Therefore, take up the full armor of God, so that you will be able to resist in the evil day, and having done everything, to stand firm. Stand firm therefore, having girded your loins with truth, and having put on the breastplate of righteousness, and having shod your feet with the preparation of the gospel of peace; in addition to all, taking up the shield of faith with which you will be able to extinguish all the flaming arrows of the evil one. And take the helmet of salvation, and the sword of the Spirit, which is the word of God, with all prayer and petition pray at all times in the Spirit, and with this in view, be on the alert with all
perseverance and petition for all the saints."
— Ephesians 6:10-18
Faith
When Jesus said, "I came that they may have life and have it abundantly" (John 10:10), He wasn't talking about the pursuit of happiness. He was talking about God's design for us to live by faith. Romans 1:17 says, "The righteous will live by faith." The best way to live is to act in accordance with how our Creator designed us – to live by faith.
In the beginning, Adam and Eve lived with unconditional trust in the Lord. That trust was broken when the seeds of doubt began to take root. They began to question whether or not God had their best interests in mind. Was God keeping something from them? So they disobeyed, and we all found out that they chose the wrong answer.
When we doubt God's character and His love for us, the arrows of the evil one can potentially penetrate our hearts and cause much pain and suffering. These arrows are not the bad things that happen to us. Bad things happen to us because we live in a world marred by the consequences of sin. The arrows are the temptations from Satan to not put our complete trust in God.
When Job suffered the tragic loss of everything he had (all his possessions and children), it says, "In all this, Job did not sin by charging God with wrongdoing." (Job 1:22) The evil one had told the Lord that Job would "curse you to your face" (Job 1:11). Instead Job placed his trust in the Lord.
When Job's health was taken from him and he was afflicted with painful sores all over his body, still he did not turn away from trusting in the Lord. It says, "In all this, Job did not sin in what he said." (Job 2:10) Satan had said to God that if Job's health was taken from him, he would "surely curse you to your face." (Job 2:5) Job placed his trust in the Lord.
We, like Job, face the temptation to blame God for not caring about us when we go through difficulties. It is at these times we need faith in order to shield us from the temptation to accuse God of doing wrong by us. James 1:13 says, "Blessed is the man who remains steadfast under trial, for when he has stood the test he will receive the crown of life, which God has promised to those who love him. Let no one say when he is tempted, 'I am being tempted by God,' for God cannot be tempted with evil, and he himself tempts no one."
Salvation and God's Word
The helmet of salvation and the sword of the Spirit are gifts which are given to everyone who trusts in the Lord. Just like with all gifts, there must be a giver. The Lord gives salvation because it is His to give. He earned it through His life, death and resurrection. By faith we can receive it.
The helmet of salvation must be firmly in place because Satan sows weeds of doubt about our salvation. These weeds include not believing that you are good enough for God and that He would never forgive you. The reason why this is so deceptive is because there is truth wrapped up in this lie. The truth is that no gift we can give God and no sacrifice we can make to God will ever make us good enough for God. Only Jesus' sacrifice will do. Once we settle this truth and cease our worry or our efforts at trying to measure up, then we will become secure and protected in the knowledge of our salvation.
The sword of the Spirit is also a gift which has been given. The emphasis here is not so much growing in our understanding of the Word of God but using it. It is called the sword of the Spirit because we rightly use God's word when the Spirit is directing us. Without the Spirit leading us into all the truth, we can turn God's word into a club to beat people over the head. However, if we properly understand it as His Word under the guidance of the Holy Spirit, it can provide strength to stand firm against the strategy of the evil one.
The Word of God is a sword which cuts down the advance of evil. But it must not simply be on our lips — it must be in our hearts. Psalm 119:11 says, "I have hidden your word in my heart that I might not sin against you." It is not only memorizing Bible verses which is important — allowing God's word to become a part of the core of our being is part of what it means to become like Him. James 1:21 says, "Therefore, get rid of all moral filth and the evil that is so prevalent and humbly accept the word planted in you, which can save you." This is not the salvation kind of saving. It is being saved from the power and influence of the evil one.
Prayer
Prayer is not a part of the armor. We are not instructed to put on prayer. We are told to pray. To pray is to follow the orders of our commanding officer. Once we have
put on the armor, prayer should characterize our daily activity. Jesus said, "My house will be called a house of prayer for all nations." (Mark 11:17) The house He was referring to was not the physical temple but the spiritual temple – His people, those who live by faith in Christ.
The command to pray is accompanied by four "alls." These "alls" are important. The first is "all kinds of prayers and requests." There is nothing in our life that can fall outside of the need to pray. If you have a question about whether or not to pray about something, let this be your answer — "Yes."
The second is "pray at all times in the Spirit." Is there ever a time where we should be out of communication with the Spirit of God? We should always be listening even when we are unable to pray out loud.
The third is "all perseverance and petition." Some things need to stay on our prayer list until the Lord gives us peace to take them off. James 5:17 says, "Elijah was
a man with a nature like ours, and he prayed fervently that it might not rain, and for three years and six months it did not rain on the earth." There are times when what we lack is perseverance, not faith.
The last is "for all the saints." We need to hold all of God's people in our hearts. That doesn't mean that we can pray for everyone all the time, but it does mean that we should be ready to pray for God's people at home and around the world as the occasion arises. For example, we should be praying regularly for Christians who are facing the reality of the Islamic State.
The following report is from the Voice of the Martyrs:
"As the Islamic State (IS) fighter raised his weapon to fire, the Christian he was about to kill made a surprising statement. "I know you will kill me, but I give to you my Bible."
The fighter — who especially enjoyed killing Christians — squeezed the trigger, and the Christian man fell dead. Then the fighter did something strange: he picked up the Bible.
As he read it, he began having dreams of a man in white who told him, "You are killing my people."
As we pray for strength for others and they pray for us, we are all going to be stronger in the Lord. We don't fight these battles alone. We are in this together. Let us be those who pray at all times for all of God's people.
How can we pray? Let us pray for each other to become more like Jesus: To grow stronger in faith, in righteousness, in the peace of God, in truth, in the Word of the Lord, in being transformed into those who truly reflect the image of Jesus.
Unity – Common Union
In His prayer on the night before His crucifixion, our Lord made a couple of very important requests of our Heavenly Father. "I have given them your word, and the world has hated them because they are not of the world, just as I am not of the world. I do not ask that you take them out of the world, but that you keep them from the evil one." (John 17:14-15)
Jesus also prayed, "I do not ask for these only, but also for those who will believe in me through their word, that they may all be one, just as you, Father, are in me, and I in you, that they also may be in us, so that the world may believe that you have sent me." (John 17:20-21)
The Lord was asking for unity among his followers, for all who would come after him. This unity is possible because of the unity that exists between the Father, Son and Holy Spirit. We have a common union not because of our common beliefs, our common abilities, our common temperaments, our common ancestry, or any other thing that belongs to us. We have common unity or communion because we share in Christ together. Because we have been covered by Christ, because we are in Christ who is in the Father, we have the ability to come into perfect unity.
Perfect unity is not perfect uniformity. We will never see unity by attempting to make another person like us. We will see unity as we together fix our eyes on Jesus, helping one another to draw close to Him and to be conformed to His image, His character.
So then let us put aside the need to create each other in our own image and instead celebrate the image of Jesus which God is creating in each one of us.