Jun 2, 2015
Youth Sabbath in Shiloh
by Donna S. Bond, Correspondent
Youth Sabbath in Shiloh has traditionally been a high point in our church calendar and February 28, 2015, was no exception. There was something for everyone — contemporary music for the young at heart, proud moments for parents and grandparents, and chuckles and lessons for everyone else. Praise choruses were led throughout by Tyler and Bethany Chroniger, and Julia and Joshua Coleman.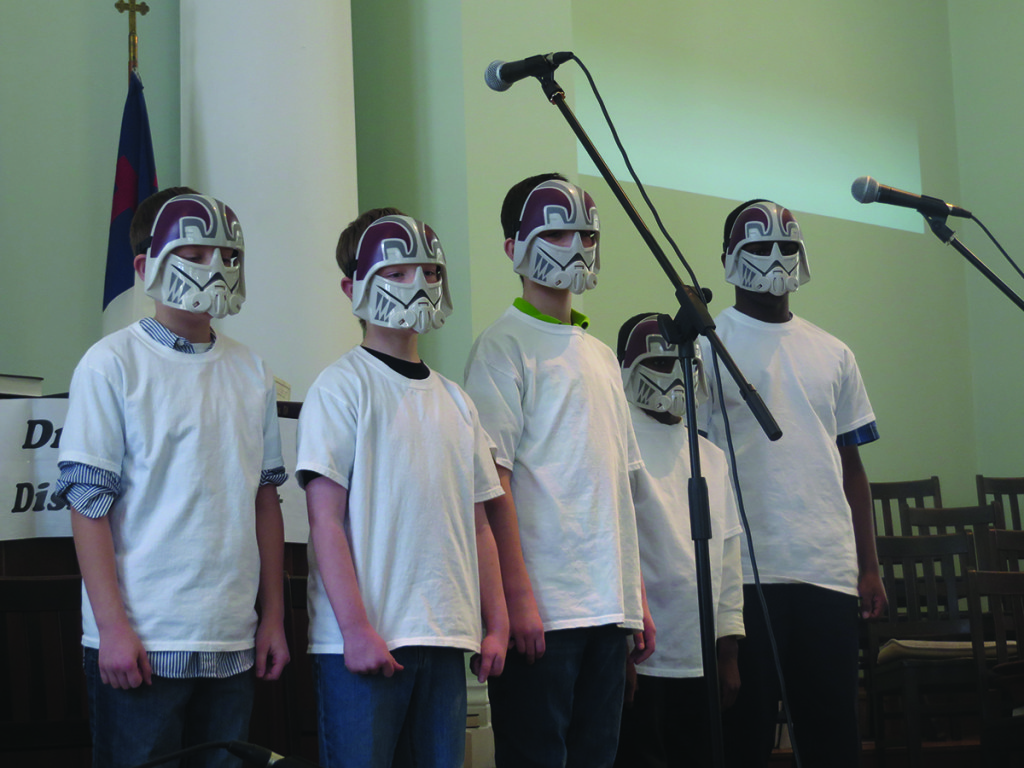 A number of clever readings were delivered, including Psalm 100 ("Make a joyful noise unto the Lord); "Who Is God?" (Creator, everywhere, needed by all); "Before There Was Anything Else…There Was God" (always has been and always will be); "Sharing Your Faith" (Be bold; your story is powerful); "What a GoPro Camera Can Teach Us About Trusting God" (submerged in trouble but remaining in the Case); "The Bible Is Like Dark Chocolate" (You can't get too much of it); "What Your Phone Can Teach You About Words" (Put a password in your mouth); and "What Language Do You Speak?" (James 3 passage on the use of the tongue). These selections were read by Amy Hemple, Alex Hitchner, Julie Schmidt, Meghan Glaspey, Joshua Coleman, Mackenzie Sloan, Holly Probasco, and Suzanne Glaspey, respectively.
Chance Schmidt then introduced five young men — Frankie Mazza, Liam Probasco, Brandon Glaspey, Jonah Bond and Joshua Coleman — who shared the "5-Finger Prayer Plan": The Thumb reminds us to pray not only for those closest to us but also our enemies; Pointer represents teachers and healers; Tall finger stands for those in authority over us; Weak fourth finger (according to piano teachers) reminds us of those who are in need; and Pinkie represents those who need our help.
The children's message, delivered by Cindy DuBois, followed the cell phone theme, i.e., we can call on God in emergencies, but can also talk to Him at other times. The offering was led by a multi-tasking mom, Suzanne Glaspey, as she called upon the ushers, invited the congregation to give, played the offertory on the piano, and delivered the blessing on the offering.
What Shiloh Youth Program would be complete without a "Probasco Production," written and directed by our jack-of-all-trades Conference President, Bill Probasco? "Dr. NewHeart Will See You Now" featured Liam Probasco as Disney Therapist NewHeart with the following scenes enacted on a "couch":
Scene 1: "Silence is Golden" Anger Management —Darth Vader (Chance Schmidt)
Scene 2: "Princess Support Group" — Cinderella (Mackenzie Sloan), Snow White (Meghan Glaspey) and Belle (Sadie Davis) bemoaning such catastrophes as a lost slipper, hiding by day, and a "beastly" prince. Conclusion: "Happily Ever After begins with me."
Scene 3: "I Am Somebody" Self-Esteem Class — Star Wars clones Josh Coleman, Brandon Glaspey, Frankie Mazza, Jonah Bond and Luke Coleman declaring, "I can be different," yet donning identical masks, blue jeans, and T-shirts.
Scene 4: "The Cure for Wicked Ways" with Holly Probasco as the Wicked Queen who is much too evil to ever be forgiven. Dr. NewHeart, of course, counsels her on the message of forgiveness, which she eventually accepts and feels "Snow White," even though the message in the mirror indicates she is not even in the top five of "fairest in the land."
For over 275 years the Shiloh SDB Church has praised God not only for the children and youth He has given us, but also those adults who have guided them. This year's production was made possible through the efforts of the following adults: Tyler Chroniger, Bethany Chroniger, Julia Coleman, Suzanne Glaspey, Bill and Val Probasco, and Julie Schmidt.