Mar 26, 2015
That They May Have Life
Part Two from "Doesn't He Know?"
Daniel Lovelace
Metro Atlanta SDB Church
The tax collector
I am a murderer. I murdered both a man and his family two years ago because he never paid back the money I lent him, after several of his broken promises to do so. Then I covered it up by framing his best friend as the killer. The friend was executed and I continue to live my life in anonymity; yet not a day goes by that I am not tormented for what I've done. I hate myself, and my hatred only deepens as time continues. I feel so cold and broken; so dark. I wish I could forget everything and start my life again. But it's too late. There is no hope — no escape from the burden of my evil.
The builder
Why isn't this working? What am I doing wrong? I read the scriptures every day, I teach people at the synagogue (and elsewhere) about the ways of God, and I try my best to walk in obedience to His commands. However, I still feel empty inside, and along with that, my life is falling to pieces. My business is not doing well, my relationship with my wife is becoming increasingly tense, and my children pay me no attention. I've tried to help in each of these situations, but everything I do seems only to further make things worse. In spite of this, many people still seem to view me like I have it all together. Deep inside though, I'm so empty. I feel so separated from God, though I claim to serve and love Him.
The glass worker
Most people don't know this, but as a young girl I was raped by a neighbor. Since that time, my heart and life has shattered into smaller and smaller pieces. That memory has haunted me throughout my whole life. I feel marked, dirty, and devalued because of it. Other people seem to reflect this too; past relationships, friends, and even family members have only served to confirm my feelings over the years. So many times I've been used, rejected, and ignored — it's like a never-ending cycle. I've tried to forget those things, or at least mask over them, but wine and other diversions only comfort for so long before my weighty brokenness returns. I guess I
deserve all this — why else would it happen to me?
The silversmith
The dark secret I carry is reaching a point I don't think I can handle. It was years ago that I surrendered myself to an evil spirit. It promised me wealth and popularity, which came; but then it gradually started forcing me to do its bidding, with threats to my life. Now I'm chained in this darkness. I have more fame and money than I know what to do with, but I hate every bit of it. I would trade it all in one moment just to be rid of this foul demon — but I'm stuck, and I'm to blame. Religion can't help me, I have condemned myself and I deserve the result. My only hope for freedom seems to be in death.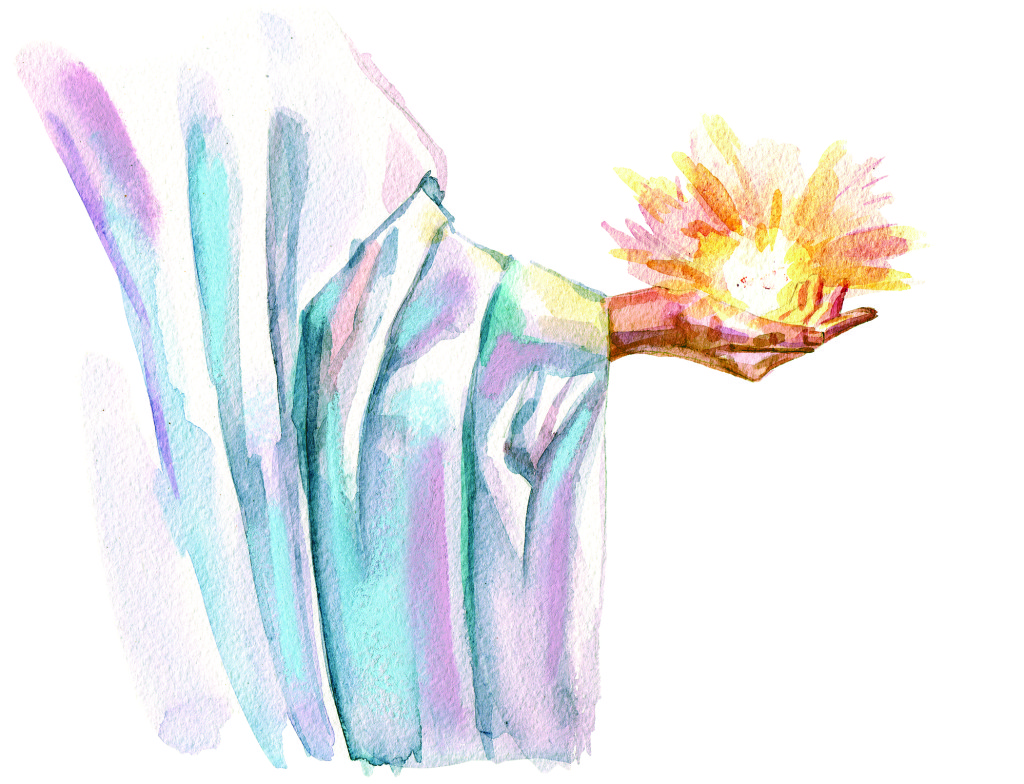 The Cross
The tax collector, builder, glass worker, and silversmith — strangers to each other — stood amongst a crowd watching three crosses on the hill of Golgotha. They were told the three men on the crosses were crucified for their wrongdoings: two of them were thieves, while the Teacher in the middle had claimed to be God. One could notice He was much more beaten and bloodied than the other men, to the point where He was unrecognizable. Whip lashings had shredded His entire body, and a crown of thorns had been beaten upon His head. Blood covered this Man as it streamed to the ground. People shouted insults at Him, ridiculing between themselves about how they thought He deserved it. Then there was some commotion. The Teacher was saying something. Moments later, He called out just before He died — "It is finished!"
The Tomb
That Teacher went on to be buried in a tomb. Later it was rumored that some people had seen Him appear, alive again! The rumors seemed ridiculous at first, but then many people, a few hundred in fact, started to confirm that they saw Him, alive and in the flesh. Each of the four people heard these stories and began to wonder about them. As they would go on to find out, this Man was God, come in the flesh, and something earth-shattering had taken place when He died and was raised. Something that could directly change their lives forever for the best — salvation was purchased for them.
We're in a time of the year where we especially take time to remember Jesus' death, burial, and resurrection. We can all be grateful for the resurrection of Jesus. It's a vital thing to remember everlasting life is ours because of His finished work, but salvation is so much more than simply a ticket to heaven. Jesus came to bring all of us hope! He came to restore our lives to what God designed them to be.
"The thief comes only to steal and kill and destroy. I came that they may have life and have it abundantly."
John 10:10
God does not sneer at us in our pain. His heart goes out to us in loving compassion and He offers us freedom from those things that ensnare us. He came to bring us into intimate relationship with the Father, where we walk with Him as He directs, and know His beauty and life, for which He created us. The devil desires corruption and death in our lives through sin, but Jesus came to destroy his work.
"The reason the Son of God appeared was to destroy the works of the devil.…"
1 John 3:8
There are some in the church who live as if they have little hope in their lives. Their conversations seem to be filled with how badly things are going for themselves and others. They may ask for prayer, but have little faith for any change to come. Yet Jesus brings abundant life and victory! His death brought God's power for our salvation!
"For I am not ashamed of the gospel, for it is the power of God for salvation to everyone who believes…" Romans 1:16
You see, Jesus died to bring us salvation, but salvation doesn't only mean forgiveness of sins. From what I understand, the Greek words for "salvation" or "saved" refer to our complete deliverance, healing, preservation, safety, and forgiveness. Think about it: Jesus wants you to experience His life through His salvation. It's not only freedom from Hell, but also freedom from every corruption and bondage from sin. That includes guilt, shame, fear, temptation, hopelessness, disease, anxiety — whatever might bring you bondage — Jesus paid for your salvation in Him.
"So if the Son sets you free, you will be free indeed."
John 8:36
So look to Him with a hopeful heart. Don't focus on your circumstances or your own worthiness, but look to Him with faith, and trust what His Word says. Understand that He loves you — He has sacrificed Himself, and paid His blood for your complete salvation in Him. He is the Hero. He does the work which no one else can do, and He deserves the praise which no one else must take. So run to Him, and cast all your cares on Him—He cares for you, and He will act for you!
"For if, because of one man's trespass, death reigned through that one man, much more will those who receive the abundance of grace and the free gift of righteousness reign in life through the one man Jesus Christ."
Romans 5:17