Mar 26, 2015
Dorotha Shettel Fund
by Nadine Lawton
Wow, SCSC is starting its 51st year of servant leadership training! It was wonderful to see so many former and current SCSCers, from the first year through this past summer's teams, gathered on the stage to share in a special Friday evening service to celebrate the first 50 years!
Many changes have taken place over those years. The first team in 1964 had no training before going on project in Metarie, LA. Now there is a staff that spends 10 days training the team in leading and serving—and even remembering their manners when church members welcome them into their homes or take them to a restaurant for a meal. And they also receive training materials so that the students can have added training while they are finishing up their classes for the school year.
A committee from the SDB Women's Board now works throughout the year to try to make each team the best for the Lord's work that He asks to be done.
In recent years the SCSC Committee has added a sub-committee to work with the music ministry of Stained Glass.
Unfortunately, one of the changes is that the students who give their summer to the Lord have to help with their expenses. Often there is not enough time between training and Conference to get the full project time in before Conference, so Conference is also project time. This creates a problem for students who may not have the finances to attend the Pre-Conference retreat, after project evaluation, so they can be at Conference for the final week of project.
This is why the Dorotha Shettel Fund was started. Former Women's Board President, Dorotha Shettel, appreciated the experience and training the young adults received through SCSC and saw the impact they have had on the denomination. She wanted these young adults to continue to have that impact. Not being able to be a part of SCSC, and now Stained Glass, because a lack of finances (to get home or attend Pre-Con) should not be a hindrance in applying to give your summer to the Lord through this program!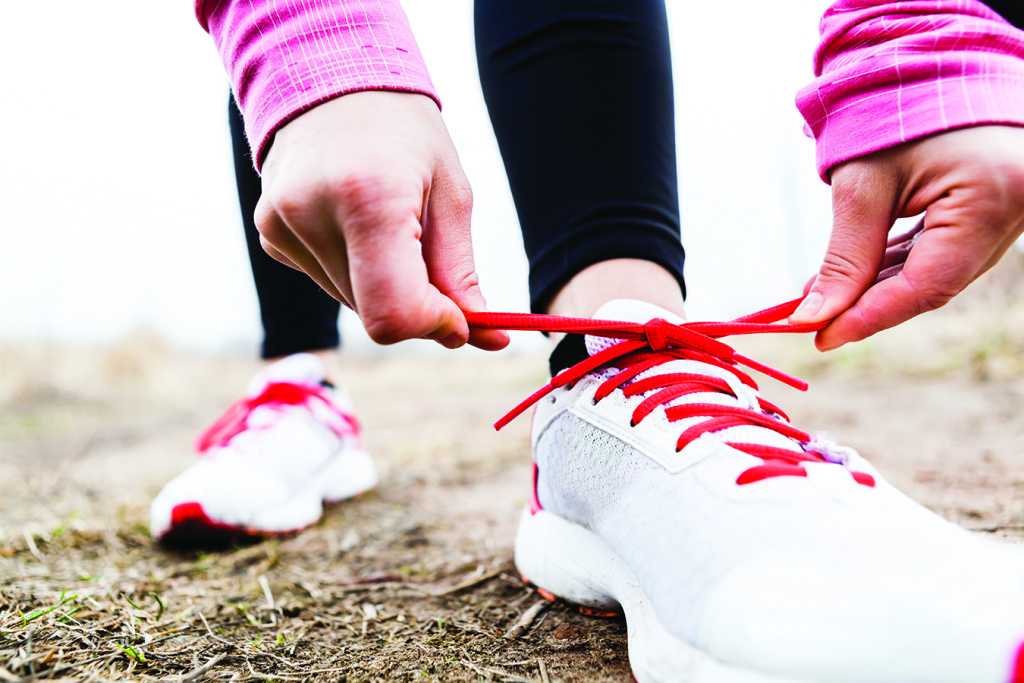 The fund was named in Dorotha's memory, but we are the ones charged with growing that fund. For the third year the "Stepping Out in Faith" fundraiser will be an avenue for you to help, not only the growth of the Dorotha Shettel Fund, but also the path that the Lord has many of our young adults on—to strengthen them through SCSC/Stained Glass so they can continue to be steadfast in their faith.
This year we again ask you to follow where the Lord leads you as you strengthen your faith journey during a time that you decide: one month, 40 days or from the time SCSC training starts until the end of Conference. If you walk, run, skip, or dance your way through this season, perhaps you could pledge an amount per mile that you go, or each step that you take. A suggestion from the Women's Interest Committee at Conference was that you could pledge $1 for each day that you read your devotional and fine yourself $2 or even $5 for each day that you forget to read your devotional. If you are a reader, pledge $1 for each page! Another challenge would be for your ladies group, Sabbath School class, Bible study group, or even the whole church to match the funds SCSC students or Stained Glass members are asked to raise to help with their expenses. That's $500 for SCSC and $1,000 for Stained Glass. If you have an SCSC student or Stained Glass member from your church, can members of your group or church match what they raise to support the Dorotha Shettle Fund? Therefore you support not only your church member, but many other young adults giving their summer to the Lord.
If you would like to send in a donation to the Dorotha Shettel Fund, whether it is the leading of the Lord to do so, or from the "Stepping Out in Faith" fundraiser, please send it to the SDB Women's Board, P.O. Box 1678, Janesville, WI 53547. If your donation is from "Stepping Out in Faith," please note that on the memo line. Donations from the fundraiser will be matched by the Women's Board up to $2,000. On behalf of the SCSC/Stained Glass students and the Women's Board—Thank you!