Feb 25, 2015
Daniel Lovelace
Metro Atlanta SDB Church
"Shut your mouth, the Teacher doesn't want to waste his time with sinful fools like you!"
Doesn't he know who he is?
I hear a harsh response to someone on the side of the road. I'm not quite sure what's happening as I stumble through the middle of a crowd following the Teacher on his stop through Jericho. But then I see the Teacher pause and say something to two of his disciples. The crowd parts as the disciples walk to the street side and lead a filthy blind beggar back to the Teacher.
"Hey, that's Bartimaeus," I hear someone comment. "He's that lazy scoundrel who is under God's punishment of blindness. Why does the Teacher want to talk to him? Doesn't he know who he is?"
A few moments after he meets the Teacher, Bartimaeus is looking around in absolute amazement and shock, then he lets out a loud shout of joy.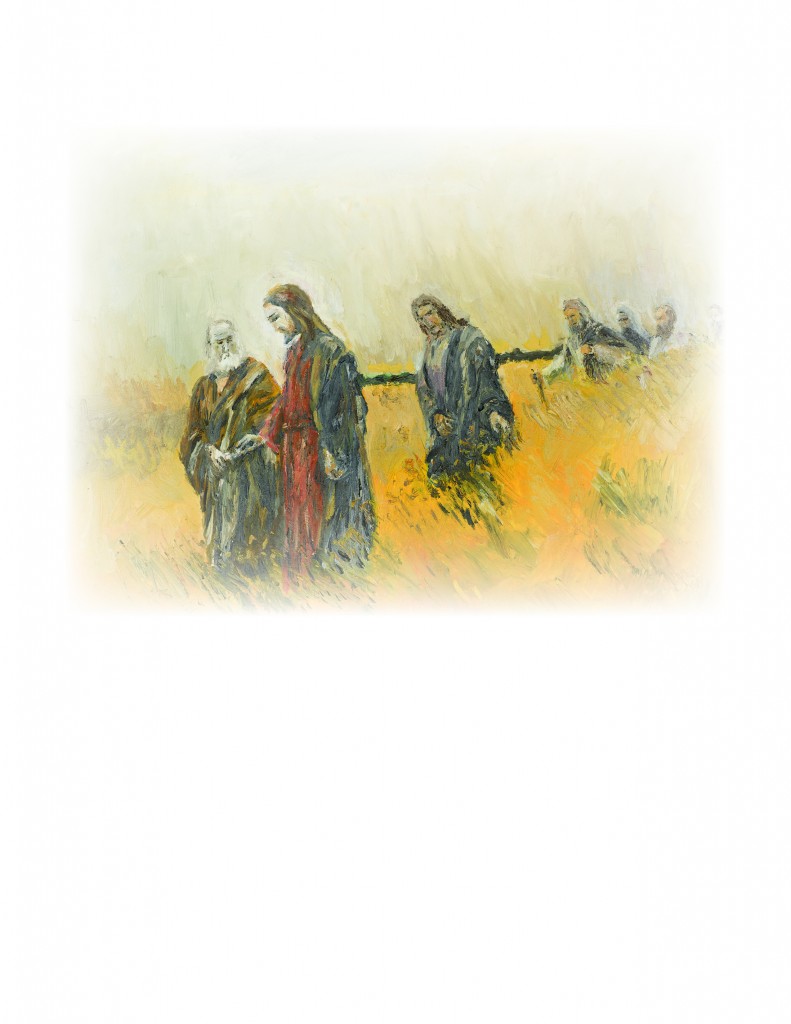 Didn't he know to leave them alone?
The first day I saw the Teacher I knew there was something very special about this Man. He taught regarding the things of God and the Scriptures, and explained those things in ways I'd never heard before. He taught with such authority—in such a way that made me believe he was speaking directly from God, not based on the ideas of other teachers. There were times when he made me uncomfortable. Even so, I still hungered to hear more of what he said—about God, His Kingdom, and how we can enter it.
While I was amazed at this Teacher, there was another aspect of his ministry: one of powerful miracles and healings. But why did he have such a pull towards people most others stayed away from? Didn't he know there was a reason to leave them alone?
Why was he talking with her?
One of his disciples once told me a story:
"Our Master had a long conversation with a woman who had had affairs with several men. We were traveling through a city, and had just come back from buying food, when we found him sitting by a well talking with this woman. We didn't mean to interrupt whatever he was doing, but we didn't understand either—why was he talking with her? She was a Samaritan woman.
Besides that, she had a disgraceful lifestyle—to speak with her was shameful! What if people saw them talking and accused him of participating in sin with her? But this is the kind of thing our Master tends to do. He has openly talked with, and blessed, other adulterous women—at other times, even prostitutes. However, after meeting Jesus, she was a new woman. Where there was once despair and gloom, she was now filled with hope and joy."
Another time there was a man with a son who suffered oppression from an evil spirit, which not only made the boy unable to speak, but quite often would throw the boy around in seizures, sometimes into deep water, and sometimes into fire pits. The boy suffered from numerous injuries and burns all over his body. I was with some of the Teacher's disciples (while he had gone away for a time) when the boy's father asked them to help his son.
Doesn't he know better?
"This boy was probably cursed for the sins of his father," a nearby woman commented to me. "The father just feels guilty. That must be why he is desperately trying to help him."
I thought that was a bit callous remark to make, but I continued watching as the disciples laid hands on the boy and prayed. I had seen them pray for others with various diseases and demons to be healed and delivered, so I figured this boy would be set free shortly as well.
Nothing happened.
The disciples prayed again. Still nothing.
Once more—same results. They started to look puzzled and started asking some questions.
"I knew it!" The lady beside me commented again, "It's not God's will to heal that boy!"
The disciples' questions and conversation started turning into an argument amongst themselves and some others.
Suddenly, I see the Teacher, who has just walked up beside me, looking at the quarreling chaos. In that moment I noticed a radiance about him—an amazing peace which seemed to come from him, a peace I've never known anywhere else.
"What are you arguing about with them?" the Teacher calmly yet firmly asks one of his disciples. Then the father of the son steps forward to explain the situation.
The woman now criticizes the Teacher, "Doesn't he know better? It isn't God's will to heal this boy."
A few moments later, Jesus spoke to the evil spirit, commanding it to leave, and the boy was instantly set free and healed!
Didn't they deserve the consequences?
I also heard a story about two demon-possessed men who ran through the wilderness graveyards naked, terrorizing the nearby city and villagers. There was nothing the city council could do to stop them, not even restrain them with iron chains! Someone said they heard those two men had practiced sorcery at times
before their possession, inviting the demons of Satan into themselves, which now took control over their bodies. But when the Teacher met those men, he freed them from the demons that day! It didn't make sense, didn't they deserve the consequences of their evil works?
Doesn't he know?
A crowd is walking with a woman in bitter anguish. Her son, a young man who had died in a tragic accident, was now being carried down the road to be buried. It was an unfortunate sight to see, this young man was probably rebellious as a younger child and now had died an early death as a consequence of it. The truth was that the mother's heart ached because, not only was he rebellious as a child, but he openly disregarded the ways of God as he grew older. Her heart was broken not only by his sudden loss, but even more deeply at the thought of what would result on the Final Judgement Day. Then the Teacher approaches the procession. I realize he has healed many people before, but doesn't he know what this is? The man is dead, he can't receive healing, his fate has been sealed by God. But then
suddenly, blaring shouts of wonder and praise fill the air!
The blind man's sight was restored.
The woman with a past was given a future and a hope. The oppressed boy was given liberty.
The demonized men were set free.
The dead son was given another chance to live.
Good news is preached to the poor,
liberty offered to the captive,
recovery of sight to the blind.
The unworthy are deemed worthy.
Shame is removed.
Hope is given.
The Truth is taught.
He does know.
I'm beginning to understand.
Isaiah 61:1-3:
(a prophecy written regarding "this Teacher")
The Spirit of the Lord God is upon Me,
because the Lord has anointed Me
to bring good news to the poor;
He has sent me to bind up the brokenhearted,
to proclaim liberty to the captives,
and the opening of the prison to those who are bound;
to proclaim the year of the Lord's favor,
and the day of vengeance of our God;
to comfort all who mourn;
to grant to those who mourn in Zion—
to give them a beautiful headdress instead of ashes,
the oil of gladness instead of mourning,
the garment of praise instead of a faint spirit;
that they may be called oaks of righteousness,
the planting of the Lord, that he may be glorified.