Feb 25, 2015
Pastor Ken Burdick
Seattle Area SDB Church, WA
As we come to the season for remembering Christ's death and resurrection, what's a good subject for some personal meditation? Begin by thinking about the significance of the Cross itself.
That Jesus would suffer and be killed was a shocking idea to his disciples, though he had foretold this on four separate occasions (Matthew 16:21; 17:22-23; 20:17-19; 26:2 and see Matt. 17:12). The first time, Peter rebuked him and said, "This shall never happen to you" (Matt. 16:22 ESV). Later, Peter would even draw his sword in an attempt to prevent it. In shocking detail, Jesus told them that the spiritual leaders of his own people would, "condemn him to death and deliver him over to the Gentiles to be mocked and flogged and crucified" (Matt. 20:18b-19a). This would happen to him at the hands of the godless Gentiles!? The disciples did not understand any of this (Luke 18:34, Mark 9:32, Luke 9:45). They didn't know what to think of it.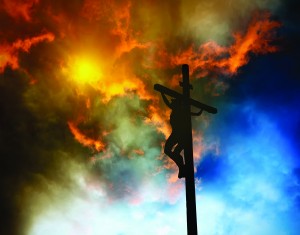 What about us? What do we think of it — of Christ going to the Cross? If we are believers, we know that it is the basis of our salvation. But let's not pass too quickly over the significance of the event itself, in our haste to celebrate what it accomplished!
I think of the Cross and wonder at the extent of Christ's sheer, physical suffering. I'm also reminded of the call to bear my own (lesser) cross in dying to self and welcoming Christ's life in me. But when I think more deeply about who it was that hung on that cross, it leaves me kind of stunned. It makes me shrink a little, inside. Then I am not so far removed from the shock of those first disciples, and I should not be.
The Son of Man was going to be killed by "men" (Matt. 17:22). Afterward Peter told the people, "You killed the Author of life" (Acts 3:15a). Here is one who is nothing less than "God with us" (Matt. 1:23), being put to death by those who are his creatures and bear his image. Peter added, "You denied the Holy and Righteous
One, and asked for a murderer to be granted to you" (Acts 3:14). Here is the Son of Man, sinless, pure and one with the Father, yet he suffered the full penalty of sin and was nailed to a cross as one cursed by God (Galatians 3:13). The very nature of things cries out against such an event as this ever happening!
Crucifixion was the most disgraceful way for anyone to die, yet all its scorn and shame was heaped on the only sinless person ever to live. We know about the great transaction by which, "The Lord has laid on him the iniquity of us all" (Isaiah 53:6b). But we need to think more about the injustice of the fact that, "they made his grave with the wicked and with a rich man in his death, although he had done no violence, and there was no deceit in his mouth" (Isaiah 53:9). We ought to wince when we read Isaiah 53:4-9 and recognize what it was ultimately speaking about.
On the Cross, Jesus cried out with words from
Psalm 22:1 to express his sense of total desolation (Matt. 27:46). Though he was one with the Father, he experienced in that moment of bearing our sins,
the separation from God that is their nature and their penalty. Before I can fully embrace the love and grace of God shown on the Cross, I must first understand the significance of who it was that suffered there. Only then will I truly understand the terrible, costly nature of mankind's sin (of my sin) and recognize the shocking event of the Cross for what it was.
All Scripture references are to the English Standard Version