Jan 22, 2015
Spotlight on Church Planting
— Pastor Charles R. Meathrell
Lexington, SC

There is a fear that we won't grow. It is often in the back of my mind. It is ever before me as I preach each and every Sabbath. I look into the seats and see the same few people (I love each and every one of them) and worry that maybe I might have been wrong about this; maybe there was not supposed to be a church here.
Maybe I misread everything.
When my wife, Jessica, and I came to the conclusion that we would need to move to the Deep South to complete my seminary education, we did so with a great deal of trepidation. I remember saying those words from the pulpit at
Middle Island, where I had been filling the pulpit for three years: "We are moving to South Carolina." It was an utterance that came with a fear that there would be no one to serve those precious people — and how silly that was! To think that God would call me away but not continue to take care
of them was ridiculous; I am hardly His only resource and Pastor Scott Smith would come to be the pastor in that church. (Thank God for him!)
The fact is that God had called us away to do a great deal of work and have a new adventure. I knew from the moment that decision was made that we were to plant an SDB Church in the Columbia area, and after more than three years of waiting and praying, Jacob's Well Church was born in the Columbia-adjacent town of Lexington — and trust me when I say that it was God's timing. We needed to meet and come to love the Catoes and others. We needed the encouragement and training that the time in Columbia would give us. I needed to finish Seminary.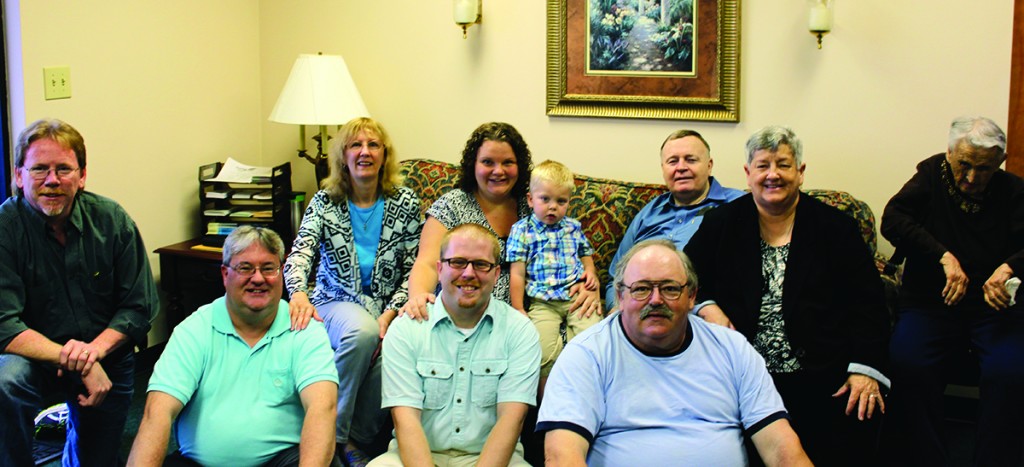 During that time, I attended and completed my school-required internship at Park Street Baptist Church in downtown Columbia. It was an old church in decline and it had more than it's share of problems. Though it was a mighty church in its day, it had suffered splits. Now it was under the leadership of a spectacular pastor, Dr. Samuel Catoe. Eventually, Pastor Sam resigned and retired at around the same time that Jacob's Well Church was starting up. (God's timing, right?)
When the church first launched in July, 2013, we met in my home. It was intimate and appropriate for us at that time, but with eyes toward growth, we searched for a new place. I met with several pastors and leaders in other denominations. I felt the work of blessing the church was a burden on my shoulders. It wasn't. It simply had to be the right place at the right time. Then around Christmastime of that same year, we moved into Emmanuel Baptist Church's facility. It was where we were supposed to be.
Our growth has been incremental. Sometimes we have had to strive to even meet due to illness and/or distance. We sometimes have difficulty paying our bills and desire to do ministry that we don't yet have the resources (both money and time) to do.
In the end, though, we have to look back and see where God has been. He orchestrated all of this. It might be that our group was never meant to last more than a short season — though I don't believe this is the case — but even so, God is on His throne.
Our church is one which constantly lays its purpose and calling at the feet of Jesus. Every word from the pulpit, every lesson learned, every song sung is an opportunity to proclaim our faith; we will not be here forever — but we are here for now and we are bowing in worship.
Looking back, there have been plenty of reasons to be anxious, and I have often fallen to that temptation. But He has been there in every moment whispering to me to stop my worry. Nothing I do or say can change what the Father has in store and all praise to Him for that.
Our prayer now is for God to send us people who are looking to serve. We need financial help, but our need for help in service is greater. At this time, we long to grow to a place where we can worship and work in our community as a witness to our relationship with Jesus.
We're small now, but anxiety is fleeting. God is so good.
Come to worship. Come to Serve. Come to the WELL.