Dec 30, 2014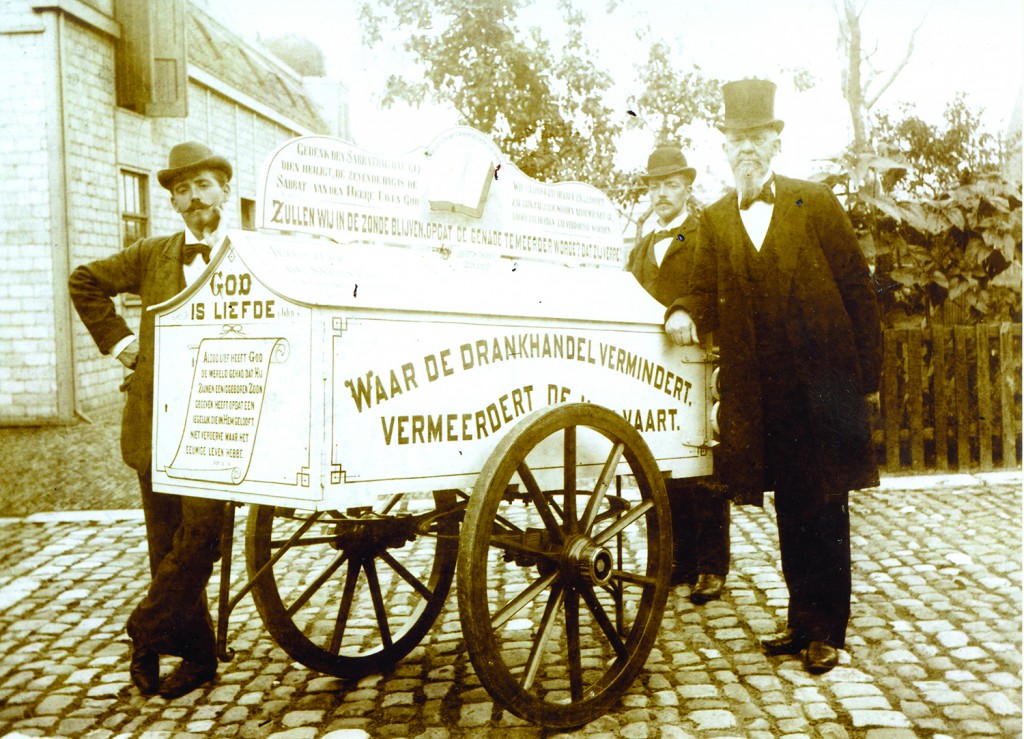 Gerard Veldhuysen, Sr.:
"so mighty a soldier in the army of the Lord"
 by Vilan van de Loo
Big changes often start with one person being curious and asking questions. Gerard Veldhuysen, Sr. (1834-1910) was that person. He was raised in Haarlem as a mainstream Protestant but at one point in his life wondered about the Sabbath. A few years later he founded the Seventh Day Baptists in the Netherlands, and to this very day the church which he started is still here.
Gerard Veldhuysen was not only a businessman and baker, but also an idealist and optimist as well. He must have had a strong charisma as he was able to attract loyal followers in his various communities, but he was also at times overly sensitive. He was a modest man, though that did not stop him from publishing a controversial magazine. Judging on his appearances in the contemporary press, he must have been a man full of contradictions.
In 1858 Gerard Veldhuysen founded the 'Vereeniging tot verspreiding van de Waarheid' (Society for Spreading the Truth). This Vereeniging was stable, until in 1869 Veldhuysen traveled to the Baptist church in the town Franeker, Frysland. He quickly realized that this must be the true faith. He was baptized on the spot. In Haarlem friends and followers were baptised, bringing the total to twelve. A magic number. Had not there been twelve disciples? And so, on October 10, 1869, Veldhuysen created the Gemeente van Gedoopte Christenen (Municipality of Baptised Christians). In response, the Vereeniging asked his friends to shun him. They obeyed. Veldhuysen had a mental breakdown that lasted for at least a year. However, his Gemeente did not fail him. Five years later they received royal recognition. Veldhuysen and others had bought a building on the Parklaan that served for the meetings, and he had started to publish a magazine called De Boodschapper (The Messenger). Then new problems arose.
Support
Veldhuysen received treatises from Scotland and America. One of them brought him once more to a different insight: Saturday, not Sunday, should be the day of rest. On October 13, 1877, Veldhuysen founded the Seventh Day Baptists — this time with twenty members coming from his Gemeente. They gathered in the Parklaan and read De Boodschapper, which was the property (and full financial risk) of Veldhuysen. He had finally found a home, even though it would mean enduring conflicts with society, where the Seventh Day Baptists were greeted with very little acceptance.
It is surprising to see the wide range of Veldhuysen's activities in relation to his unknown source of income. De Boodschapper had very few advertisements and was often given away to inform others about the Seventh Day Baptists. Veldhuysen supported the Midnight Mission, an anti-prostitution movement focusing on men. For twenty years he was the beloved chairman of the Christelijke Geheelonthouders Bond (Christian Organisation for Abstaining of Alcohol), giving lectures and speeches everywhere in the Netherlands. He also taught Bible lessons in his hometown of Haarlem. Could all this really have been paid for by his bakery?
What we do know is that Veldhuysen was supported by SDBs in America. He was an avid reader of The Sabbath Recorder and traveled three times overseas, in 1882, 1890 and 1906. It is likely that the support was not only of a moral but also of a financial nature. Especially around 1900 there was an exchange of church members between America and the Netherlands, almost always with Veldhuysen involved. His youngest son, Pieter (1874-1902), was even consecrated as a missionary in 1901. Pieter died within a few months after arriving in Africa — uniting America and the Netherlands in sadness.
Dungeon
Maybe losing his youngest was too much for Veldhuysen. In the years to follow, De Boodschapper mentioned from time to time saddening facts about his declining health, physical as well as mental. Veldhuysen suffered from cancer, had an operation followed by a "clouded mind" (insanity) for over a year and then, as his one remaining son Gerard wrote: "he was relieved from his dark dungeon."
His funeral became somewhat of a national event, with many Christian organisations paying their last respects to this man. Letters from all over the world were received, and, of course, also from America. Professor Dr. William C. Daland, president of Milton College wrote: "We all feel stricken with grief and smitten to the dust at the departure of so mighty a soldier in the army of the Lord. All the brothers and sisters here would join me in expressing the love and veneration we all feel for his memory. He became very dear to every Seventh-day Baptist in America. His last visit, in his old days, brought his distinguished personality very close to all our hearts."
Vilan van de Loo is a Dutch independent researcher from the Netherlands. Her
interests are history and literature. Her biography of Johannes van der Steur will be published May 2015 (in Dutch). Contact? Mail: vilan@xs4all.nl
PHOTO CAPTIONS:
The Nederlandsche Christelijke Geheelonthouders Bond. (Dutch Christian organisation for abstinence of alcohol).
Gerard Veldhuysen (senior) is the elderly gentleman.
The use of this car: to prevent the use of alcohol, zero tolerance.
Gerard Veldhuysen spoke on many occasions of the risks of alcohol and he then handed out copies of the Boodschapper (The Messenger).
This car must have served the anti-alcohol organisation and the 7th Day Baptists.
Translation: the plate on the car left: "Think of the day of Sabbath, and make it holy, the seventh day is the sabbath of the Lord your God." The plate on the car right: "This who praise the lord and will [have been] be baptised will be saint but those who did not believe will be doomed." Mid text: "Shall we stay in sin, so that mercy will become more? No, that must be far from us!" Under (a slogan): "Where the alcohol trade lessens, the welfare (wellbeing, wellness) grows." Aside: "God is love. 'For God so loved the world that he gave his one and only Son, that whoever
believes in him shall not perish but have eternal life.'"