Oct 28, 2014
A Day to Remember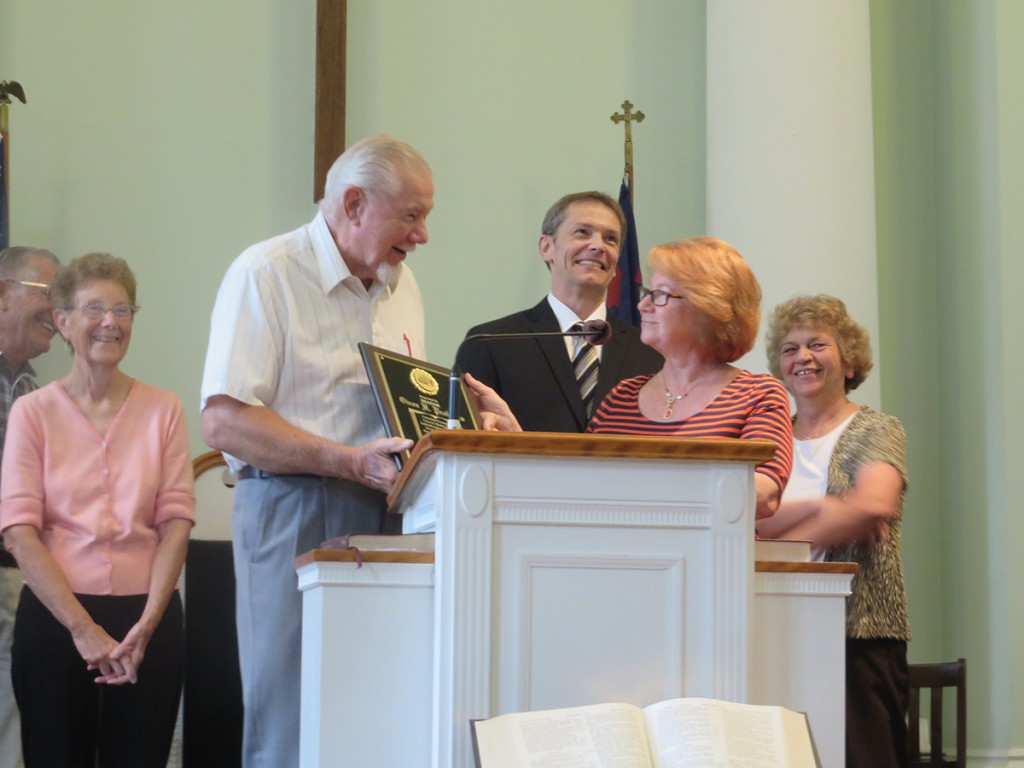 Sabbath Day, September 13, 2014, was set aside as a day to remember in Shiloh, New Jersey. "Steadfast Sabbath" was celebrated. This idea was spurred on by the 2014-2015 General Conference theme. Since Shiloh's Bill Probasco was preparing an eight-week "presidential tour" of sister SDB Churches, his hometown church invited him to kick it off right in his own backyard.
One special highlight of the service occurred when the diaconate pulled a double switcheroo. You see, Pastor Don Chroniger believed the diaconate was going forward to recognize Owen Probasco for 57 years of steadfast service as a deacon. That was a surprise to Owen, who thought they were honoring Pastor Don for 25 years of steadfast service as our pastor! The church enjoyed setting aside that time together for two very special individuals.
The morning's message was shared by Bill Probasco. Those who know Bill might know he's been a Conference Go-er since the 1980s and he has a steadfast love for the Lord. You may not know that his name (William) means "resolute protector." He is truly a steadfast protector of his SDB heritage. During his presentation, he took the opportunity to ask those who have been Shiloh Church members for at least 50 years to stand. It was a blessing to see so many people who have been steadfast in supporting the body of Christ. He then asked those who have been married 50 years or more to stand. With only 6% of the national population reaching this goal, it was wonderful to have six couples stand for their steadfast commitment.
Bill's message continued with a three-fold purpose. First, it encouraged us to stand firm in our faith. After all, the meaning of steadfast is to stand, or to take a stand, without yielding. Second, it suggested that we can seek a renewal or regeneration of our faith in order to remain steadfast in our relationship with the Lord. Lastly, the message challenged us to be steadfast together in a unified body of believers. Walking our faith journey together enables us to be more effective in ministry. "God plants forests, not one-tree hills. Together, we're stronger. Together, we're steadfast." I would add: One tree that God did place on a hill was the one He used to show His steadfast, everlasting love. He made Himself a sacrifice once for all, because only in Him can we come close to being steadfast in anything.
Steadfast Sabbath was a day to remember the countless tangible and intangible things for which we are so thankful. We continue to be thankful to our almighty, steadfast God from Whom all blessings flow.