Oct 1, 2014
"It's Heavy"
Sharing the journey with you
Pastor Scott Hausrath
North Loup, NE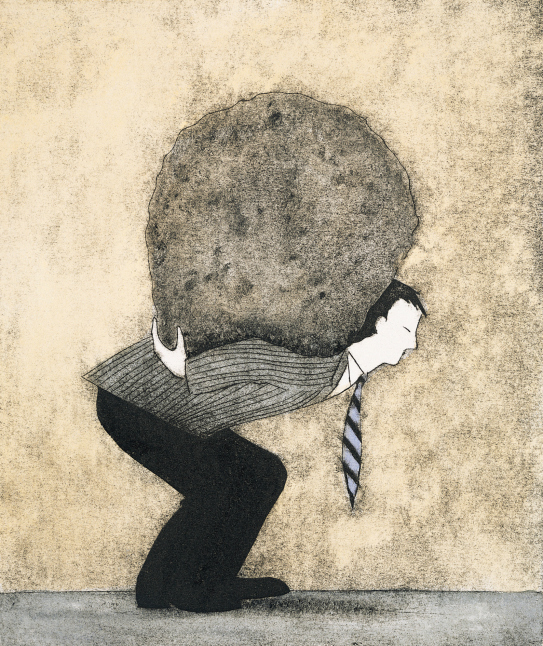 About a month ago, during our weekly community prayer meeting here in N. Loup, one of my friends mentioned the term "the weight of sin." He was praying for those who don't yet know Jesus Christ, who are still carrying around on their shoulders the weight of their unconfessed sin. They're still carrying this crushing weight, because they haven't yet asked Jesus to remove it from them.
I trusted Christ as my Savior when I was in college, more than 30 years ago. That's how long it's been since I've had to carry around on my shoulders the weight of my unconfessed sin. It's been so long that I honestly don't remember what it was like to carry that weight with me. I'm just now realizing that, in this way, I am so out of touch with what unbelievers are currently experiencing.
It's not that I want to feel again the terrible weight
of my sin. No, I've received freedom from both sin's penalty and its power, thanks to our precious Lord Jesus Christ. What I'm thinking about is my need to be sensitive to what unbelievers are experiencing, and this huge burden of sin is a central part of that experience. How could I have forgotten this?
In Psalm 32:1-2, David describes as "blessed" the person whose sin has been removed from him: "Blessed is he whose transgressions are forgiven, whose sins are covered. Blessed is the man whose sin the Lord does not count against him and in whose spirit is no deceit." I've been experiencing this blessing every day for over 30 years, but now I'm realizing how much I've been taking for granted this blessing. Wow, Lord, forgive me for this oversight.
Yes, I really do want to see people trust in Christ, so they'll be with us in eternity. Yes, I want to see people trust in Christ, so God will receive the glory He is due. And now, thanks to my friend's prayer, I want to see people trust in Christ, so they can be released from the terrible burden of their unconfessed sin. This gives me a fresh motivation to ask people if they've ever heard the good news about Jesus Christ. Trusting Christ can make a huge difference in their life right here, right now.