Aug 25, 2014
Lightning Speed!
Rob Appel, Executive Director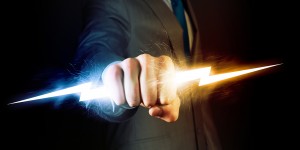 Some have said recently that, "Seventh Day Baptists are working at lightning speed lately." They were referring to the speed in which we have been making decisions and moving towards a consolidated focus and budget. There have been so many things happening that you almost need a game program to keep up with the action and the players.
In September 2013, Andrew Camenga announced that in December 2014 he would be leaving his post as Executive Director of the Board of Christian Education (BCE). The BCE also announced their intent to legally merge with the General Conference.
In late October of the same year, Kevin Butler announced his resignation which took place just this past June 30. Kevin stayed on a bit longer than expected to get the Conference program done and take care of his personal belongings. I personally appreciate Kevin's devotion and commitment.
During the recent May Historical Society meeting, the voting members of the Society overwhelmingly agreed to start the process of legally merging with the General Conference. They have appointed a three person committee to work on this process.
The Conference just added two more churches to the membership role. As of the writing of this article (July), we have three more who have requested the membership procedure to start. By the time of this issue, it could be more than three!
At the General Conference meetings in July, I talked about 19 churches across the USA and Canada that are conducting services each week that you might not know about. Some are home churches. Some are church plants. Some have been around for over 10 years and are working towards Conference membership. Some are "courting" Seventh Day Baptists to find out who we are and if they feel that they are one of us too!
I made this presentation at Conference because I have heard from some folks along the way that they think Seventh Day Baptists are a dying denomination.
I shared this information about these 19 churches because many people only know what is going on in their backyard and they are happy to know that there is new work. Here is another fact: we have people contacting us at the SDB Center in Janesville almost on a daily basis. Just since January, we have been working with 35 contacts who are very interested in Seventh Day Baptists and what we are doing.
Yes folks, Seventh Day Baptists are alive and well!
We are moving at a speed of change that we have never worked at before! Jeremiah Owen, SDB Emerging Media Director, reports that we have over 40,000 "Likes" on Facebook and Twitter is over 27,000. Jeremiah says, "I attribute most of the growth to a couple new ads and some really popular posts that had a lot of shares and thus a lot of eye balls. Definitely getting blessed with some more traffic and that's a great thing!"
Two short years ago we did not have Facebook and Twitter accounts. Two short years ago we did not know that there were 40,000 people who like Seventh Day Baptists! Two short years ago not everybody was "hashtagging" every event…#SDBsRock…#SDBsLightningSpeed.
I hope that in reading this article you are encouraged! My hope is you are blessed by reading this article.
I am blessed in serving this General Conference for the past ten years. Thank you for your confidence and your trust as I carry out the work of God with His people called Seventh Day Baptists!