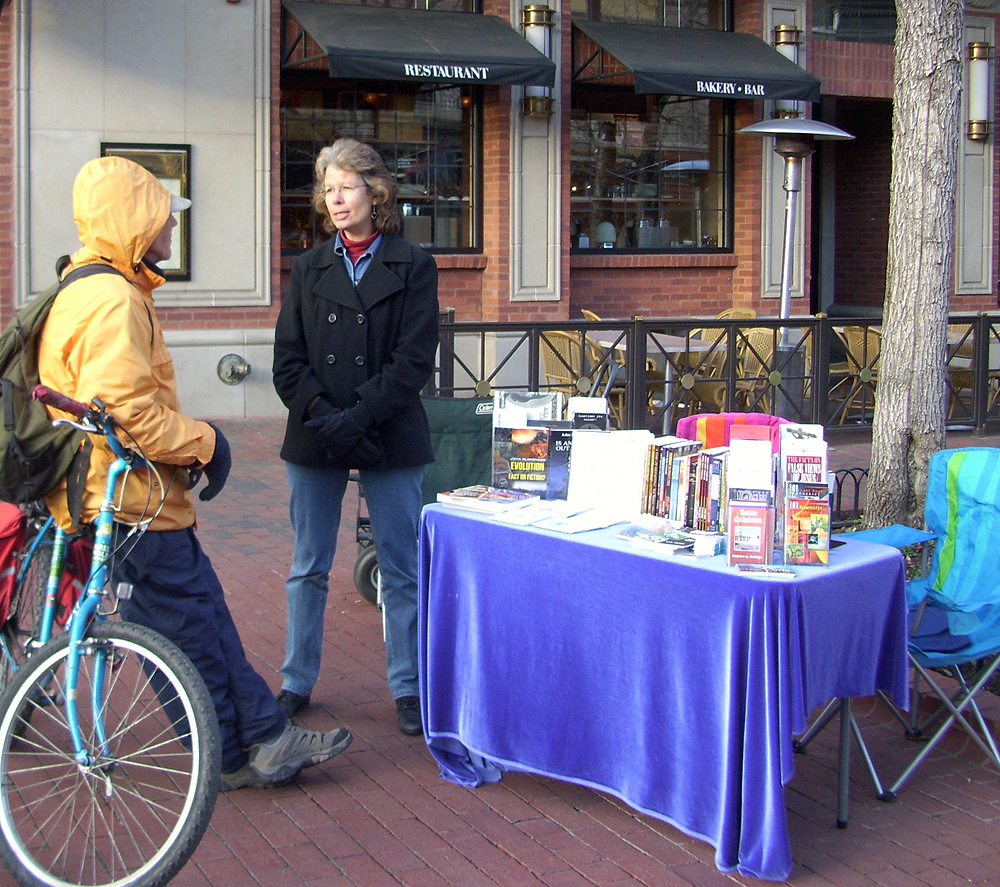 Jun 24, 2014
Preparing to Answer
by Patty Petersen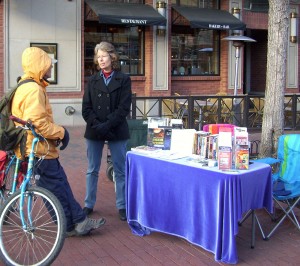 I just finished a 9-month assignment helping a new Seventh Day Baptist church get planted in Kingman, Arizona.
How did I get into this unlikely role of church planter? Looking back, I can see God preparing me step by step.
The early days
I chose to follow Jesus when I was 12, at church camp. I grew in the Christian faith through Sabbath School, Vacation Bible School, sermons, parachurch organizations, Summer Christian Service Corps, Bible study, and memorizing Scripture. Along the way I was trained in evangelism using tracts, friendship, music, and surveys. I always wanted to influence more people to choose to follow Jesus, but I felt pretty ineffective.
As a young adult I served as a short-term missionary in Honduras, living with my husband in a squatter community on the outskirts of the capital city. Functioning in that culture was a huge stretch, causing me to turn to God much more often and wrestle with the big questions of suffering and evil in the world.
It was difficult to see so much poverty in our neighbors and not have any lasting solutions for them. It turned out that what lasted was the love we showed in Jesus' name and the friendships we made (to this day, thanks to Facebook).
I don't remember leading anyone to Christ, but I encouraged many and saw God at work. The experience made me more comfortable with people unlike me, and increased my desire to right what wrongs were within my reach. (See Proverbs 29:7.)
Time for discipline
In my 30s I started noticing health problems. I didn't want chronic conditions to sidetrack me from being available to serve the Lord and realized I had to make changes. I joined a weight loss program and began to walk during my lunch hour.
Making healthier choices with what I ate and drank took many years, but I focused on educating myself and seeing progress, gaining self-control as I went along. I was encouraged by verses like 1 Cor. 6:19 (your body is a temple of the Holy Spirit) and 1 Cor. 9:24b-27, "Run in such a way that you may win. Everyone who competes in the games exercises self-control in all things… but I discipline my body and make it my slave, so that, after I have preached to others, I myself will not be disqualified."
That includes the tongue
During my two decades in corporate America, one of the most valuable things I learned was how to use carefully chosen words to communicate effectively. I was especially convicted by James 1:26, "If anyone thinks himself to be religious, and yet does not control his tongue… this man's religion is worthless." I'll be working on this until the day I die, knowing it's a critical skill both inside and outside the Church.
Seven years ago I learned "the Way of the Master" approach to evangelism and it "clicked" for me. I could have a fun conversation with both friends and strangers which ended with them understanding why their sinful behavior makes them an enemy of God and what God has done to rescue them from eternal punishment. Because the dialogue is respectful and asks a lot of questions, people don't usually get defensive. I also learn about other worldviews from these conversations.
Over time as I've been out talking to people (downtown streets, fair booths, parks, airports, wherever), my concern and compassion for the lost has grown. Even the smartest PhD is a lost sheep until he gives his life to Christ. I see people with different eyes now and I'm willing to approach almost anyone.
Read, read, read
I appreciated Ralph Mackintosh (2013 Conference President) urging us to read Henry Blackaby's book, Experiencing God: Knowing and Doing the Will of God. What an encouragement to read how this man's obedience led to people being saved and new churches started! He made it clear that following Jesus will cost you, but we're in it to win souls and we should be willing to sacrifice for God's greater glory and purposes.
Other books that influenced my willingness to yield more of my time, energy and earthly wealth were Tortured for Christ by Richard Wurmbrand (Voice of the Martyrs), God's Smuggler by Brother Andrew (Open Doors International, supporting persecuted Christians), and The Treasure Principle by Randy Alcorn. The book of Acts in the Bible was also a major motivator to give ever more for God's work.
Goodbye to "stuff"
When I sensed God asking me to move beyond weekly street evangelism to serving Him full-time in church planting, I asked, "How do I get ready?" One answer was to sell the house.
It wasn't easy but I needed freedom to go where God would send me and I needed the money. In order to move to an apartment, I had to say goodbye to extra furniture, books, kitchen stuff, etc.
Old photos and children's artwork were scanned to the computer and tossed. I'm still downsizing and learning the lesson Paul taught in Phil. 4:11, "…I have learned to be content in whatever circumstances I am."
A year ago God asked me to quit my job and start helping new SDB churches. By then I had an invitation from Pastor Bob Peet to help with their new church in Kingman.
Making the big move
So, I stopped working (despite meager retirement savings), moved half my belongings to Arizona, and then started raising support. I was living on money from selling the house.
Yes, this felt scary, but I'd read and heard enough from other missionaries to know obedience is the first priority and that God provides. I appreciate the response from SDB churches and individuals who are supporting me in prayer and financially. If you want to participate, contact the Missionary Society at (401) 596-4326 or office@sdbmissions.org.
Helping Mom helped me
A few months before leaving for Arizona, I felt God asking me to do a favor for my mother in the form of renting an apartment, so she could live in better circumstances and provide a home base when I returned to Colorado on breaks. (Another use of house proceeds.)
I committed to doing it for a year, and what a blessing that was for both her and me! When the lease was up, God provided an apartment Mom could afford on her own, and a room for me in the home of fellow SDBs. I still have a home base and a garage to store my "stuff." I've decided I only need to take what fits in my car to the next place to serve, and trust God for the rest.
This means war
I think of it as living in a time of war—serious spiritual war. 2 Timothy 2:3-4 says, "Sufferhardship with me, as a goodsoldier of ChristJesus. Nosoldier in activeserviceentangles himself in the affairs of everydaylife, so that he may please the one who enlisted him as a soldier."
I make sacrifices for the cause. I don't live as if it were a time of peace. There are lives at stake. How can I face Jesus in heaven with my one talent and tell Him I buried it to keep it safe? He would be justified in throwing me out the door. "Faithless, worthless servant!"
Instead I want to hear Him say, "Well done, thou good and faithful servant."