Jun 24, 2014
It Feels Like Winter on a Summer Day
by Rob Appel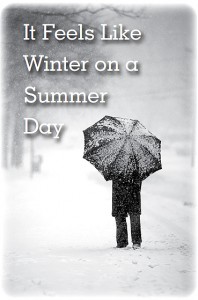 Saying goodbye to the people who make a difference in our Conference work is not easy. I have been trying to figure out how to write about Kevin Butler and his 25 years serving as Director of Communications of the American Tract and Communication Council. His contributions to the betterment of The Sabbath Recorder have been noted due of the look of the magazine.
Kevin started the job as Director on January 3, 1989. He was hired by Rev. Dale Thorngate who was the Conference Executive Secretary at that time. Kevin had vision. Kevin had dreams. Kevin saw the opportunity as T&CC Director as a ministry, not just a job.
When a likeable, funny, and favored coworker like Kevin accepts another opportunity, it can often be a blow for the people he leaves behind. His empty desk can represent its own operational challenges – the search for suitable candidates, deciding who will handle his duties, and possibly even rewriting the job or job description. When someone leaves his place of employment after 25 years, it affects not only the office as a whole, but the individuals left behind as well. Of course our real challenge is to remember that he hasn't really left us; he has just left his job.
Nothing is more satisfying than enjoying the company of the people you work with. This is especially true if some of those people can create a fun and exciting work environment. Kevin was an inspiring colleague who was funny when humor was needed and serious when it called for a more somber mood. This was inspiring to our work at the Center and also contagious to our daily attitudes.
So, although it might feel like a winter atmosphere here in July at the SDB Center, (Kevin's first month gone from the job), we know that we must maintain a positive attitude about the situation; however, this is probably easier said than done. And you our readers will be missing Kevin too.
Here are a few ways to help you keep up your spirits after a fun co-worker/friend has left:
Keep In Touch
You should try to keep in touch. This is especially true if you had a close friendship. Nothing is more deflating to both parties as a lack of communication after someone
leaves a job or community. If they were a friend before, they are a friend after. Stay in touch and work to continue to build your relationship.
Avoid Being Negative
You should avoid all negativity. You should do tasks that you know you can accomplish well. Be the responsible person on the team and change the tone of the discussion
if it turns negative. Being positive and not negative will help you and your environment recover from the absence of your friend.
Change Your Work Habits
Adjust your work routine to take on a different feel. For example, if Kevin was a big part of your workflow, then maybe you can establish a new workflow where you do things differently. This way you won't automatically be reminded of the way it used to be around the office. By creating a new routine, you replace the space with a positive routine of your own making.
Start New Projects
In keeping with the idea of the previous tip, you should try to launch into a new project, whether at home or at work. Start a project that you especially have control over and this will give you something new to focus on that doesn't involve your former co-worker or friend. The new project can consume your day-to-day feelings and concerns, that might leave you little time to think about the way it used to be.
I hope and pray that these help some of you. I know we all pray that Kevin will be as happy in his new endeavors, as he made us happy with our working with him!