May 23, 2014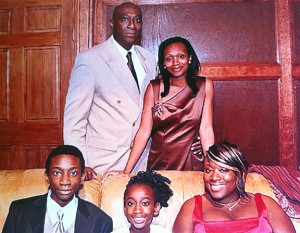 Name: Ericessen A. Cooper
Birthdate and place: December 30, 1962    St. Andrew, Jamaica
Family:
Wife: Crystal
Children: Chenille, Jibreel, Kaila
Education:
Kingston College (High School) – Jamaica, 1978
Hunter College – B.A. Communications, 1985
Ministry Experience:
Youth Fellowship President (1982, 1987-96), Youth Advisor (1997–2000), Moderator (1998–2007)
Current Ministry Position:  Pastor – New York City SDB Church since April 2005
Other Experience:
Recreational Therapist – UCP (1993-95), Audio Visual Technician – Grand Hyatt Hotel (1987-88), Strand Mapper – Warner Amex Cable (1985-87)
Other employment:  Supervisor III – New York City Department of Social Services (1989 – present)
My first job was:
as a microfiche clerk in Hunter College's Registrar office.
Personal Hero:
My mother– Pearl Cooper; Biblical– King David.
Favorite childhood memory:
My grandmother would call me on Thursday and ask me what kind of porridge I wanted after church on Sabbaths. I didn't like soup, and neither did my grandfather, so we had porridge every Sabbath.
Favorite Author:  John C. Maxwell
If given an all-expense paid vacation we would: take the family on a cruise of the Eastern Caribbean.
A great answer to prayer was:
My life partner, Crystal.
A project I'm excited about:
The church's Community Outreach Program. We have been able to meet many physical and spiritual needs of our community. Partnering with other organizations, we have provided much-needed assistance during some difficult times.
My vision for SDBs:
More evangelical outreach in the cities where we have our General Conference. There should be a radio or television presence within that community, allowing people to ask questions and have those questions answered by the Conference President or someone from the General Council. We should plant a church/group whenever we are closing Conference.