Mar 21, 2014
The Final Four?
by Executive Director, Rob Appel
Various sports have some of the largest followings in the world. Every year billions of dollars are spent on attending sporting events and purchasing team-related items. The dedication and zeal that a sports fan shows for his team is admirable.
Have you ever considered how Christians don't usually show this same enthusiasm toward Jesus or the things of God? I believe many Christians stop short of full surrender (being a true fan) to God because of what others might think or say about them. So what can sports fans teach Jesus fans?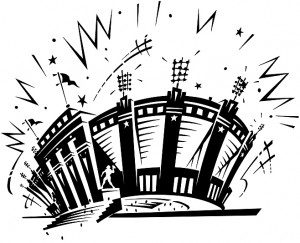 1. Sports fans are Loyal & Passionate about their team!
True sports fans cheer on their team no matter the record. A true fan sticks with their team; win or lose. You make a commitment for life!
Just look at Chicago Cubs fans. They haven't won a World Series since 1908—yet their fan base is loyal! Christians should have that same loyalty towards Christ. Their personal relationship with Christ is first and foremost! You are never disappointed in Him.
Some of you know that I'm a St. Louis Cardinal fan. In 2011 I was talking to a Milwaukee Brewer fan whose team was 10 games ahead of the Cardinals in their division. I simply stated to the Brewer fan that "we just were looking for the wild card" spot. The Brewer fan said, "You Cards fans never give up!" The Cardinals went on to win the World Series that year.
Jesus fans need to have that same passionate attitude towards our Savior. Our relationship with God should dictate our very lives! After all, God is the reason for all that is good and blessed. There should be no doubting God's love and compassion for us. We must remain faithful!
2. Sports fans are Faithful!
Sports fans like to identify with their team by wearing caps, jerseys, t-shirts, and jackets with the logo on it. A Steelers fan can leave Pittsburgh and cheer and wear the colors proudly, but a Christian gets into a crowd of lost people and loses his voice! If a sports fan can be so bold by representing their team, why aren't Christians bold about being a fan for Christ?
Sports fans are faithful. They don't conform, they stay strong, they are determined!
3. Sports fans are Determined!
A sports fan will travel to road games long distances, and for hours, just to watch and support their team. Colleges have "booster clubs" designed to further the efforts of their teams. Moms and Dads of Little Leaguers will sell candy to help buy their kids jerseys. And they don't do this to be recognized!
But many Believers want their good works to be seen by many—just like the Pharisees. Many in the church are upset if they are not recognized in some way for their efforts.
Our "works" should be from the heart, with sincere service to both our Savior and our fellow man. Our good works are a testimony of our changed life and God's residence in our hearts!
Sports fans are tireless in their work. They give and give.
4. Sports fans are Givers! Sports fans spend money! During football's "Bowl Season," millions of fans follow their college teams to a game. Fans will each spend thousands of dollars just to attend a game in person that is going to be televised. No sacrifice is too great when their team is involved in these special events!
When we consider the sacrifice that Christ Jesus has done for us and the heavenly blessings awaiting us, we should be eager to worship God in our giving!
There are a lot of things that sports fans can teach Christians if we'll watch and listen!