Mar 21, 2014
Come on down!!
 An open letter to readers of The Sabbath Recorder:
Hello from sunny, warm(er) Florida! We'd like to share some information about your sister church here in Daytona Beach.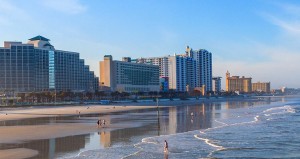 Although the number of "snow birds" has diminished, we still embrace our visitors from the north with Christian greetings. The hope is that more of our beloved Seventh Day Baptists (and others) who are retired or considering retirement might come and experience the positive values of living in our community. Still others might reflect on the merits of adding to our snow-bird population.
AARP magazine recently listed Daytona Beach as one of the best places for retirees to relocate. If the brutal cold of this past winter—with its abundance of snow and its perils—had a chilling effect on your well-being, COME ON DOWN!!
Daytona Beach is known for its abundance of shopping, entertainment, museums, parks, beaches, car races, antique auto shows, numerous golf courses, and an easy drive to Disney World and other attractions. There's something for everyone! Housing is quite reasonable with a choice of mobile home parks, gated communities and regular housing.
We would love to have you visit or stay, and become actively involved with our church family. With an excellent pastor, a wonderful building and a dedicated congregation, everyone will feel welcomed and comfortable as you worship with us.
Through the years, the Daytona Beach SDB Church has been instrumental in assisting or being the mother church for several church groups in Florida: Bradenton, Oak Hill, Kissimmee, Palatka, and others. Because of our location and excellent facility, we've been able to host many of our denominational agencies—Memorial Fund, General Council, Coordinating Leadership Team, Pastor's Conferences and others. The SDB Women's Board was located here for a decade. That gives you a glimpse of the involvement we have had and continue to demonstrate.
For the last several years, we've been able to provide food pantry assistance to needy individuals in our area. Numerous restaurants and pizzerias donate bundles of frozen food weekly. We then separate those into manageable packages to distribute to others in need. After receiving this help, several of those less fortunate than ourselves have assisted us in the food handling, and some have become involved in our church services.
With this glimpse into the life of our church, please consider joining us in the sunny South—where everyone is welcomed. COME ON DOWN!!
For the Daytona Beach SDB Church,
Wray Winborne, Pastor
Owen Probasco, President