Feb 21, 2014
Be a Role Model
by Katrina Goodrich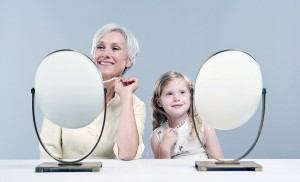 "Therefore be imitators of God, as beloved children. And walk in love, as Christ loved us and gave himself up for us, a fragrant offering and sacrifice to God." (Ephesians 5:1-2)
In 2 Corinthians 5, Paul refers to Christians as "ambassadors of Christ." I like this characterization, and so do many others. I hear it used frequently to describe our Christian walk.
Paul never intended that to be the only illustration though, and so I think he'd understand that I don't always find this picture relatable. Sometimes when I wake up in the morning, the last thing I feel like is an ambassador. I look at myself realistically and know that most days I look and act nothing like an ambassador, let alone one for God.
In Ephesians 5 Paul uses a different descriptor: imitators. Setting negative cultural connotations aside, this is also a viable representation of the God/follower relationship and a little easier to picture. Had Paul been writing Ephesians 5 in the 21st century he might have put it something like this: "God is your role model. Become Christ-like role models for the rest of the world, and here are some guidelines to help you with that."
How do we use Christ as a role model in a world that looks very different than 2,000 years ago? Humanity's fallen inner nature remains the same but customs and cultures are different.
I get lost thinking about how I don't look anything like Jesus. I'm a young woman, Caucasian, middle class—living in post-modern America. I think about myself more than I think about God or anyone else, and usually have a "punch line" more than any spiritual insight. How do I model Christ for the world as a person who is so far from having any resemblance to Christ or his disciples?
The answer to this comes from understanding why Jesus did the things he did. Learning his motivation can help us put his actions into a different context.
Most Christians don't roam around the country looking for people to heal or draw flocks to hear the Gospel as a principal occupation. Maybe you work in a factory, retail, are a teacher, a dentist, secretary, doctor, mom, dad. What would Jesus look like as a dentist in the 21st century? Finding the "why" in Jesus' ministry and applying it to current situations in your life may aid you in integrating your life with the Savior.
Just as Jesus is a role model for you, you are a role model for others. A fairly cliché statement, but true. It doesn't matter if you want to be or not, admit it or not, live like it or not, you are a role model. People who know you—they're watching. People who don't know you—they notice what you do. What do you want to show them or teach them?
People have a tendency to emulate one another, even as strangers; more so the closer the relationship. While Jesus was on earth, the way he lived his life was radical. He acted differently from the norms people expected from one another and they noticed. Crowds flocked to him. People gave up everything to be like him. At the end of his physical embodiment he issued what we know as the Great Commission (Matthew 28) in which he tells his followers to go and do likewise.
Jesus gave us a daunting responsibility, knowing we could not be perfect. Even so, he trusts us with what is most precious to him. Choose to be the Christ-like role model he created you to be, that he commissioned you to be.