Feb 21, 2014
A confirmation in the early years
by Kevin Butler
Uh-oh. The reminiscing begins as we head toward my stepping down in June…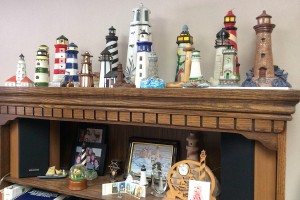 It's kind of exciting—and embarrassing—to look back at my first SR issue, April of 1989. It took me three months to prepare that initial monthly installment, all the while learning the ropes of this multi-faceted position. (If "all" I had to do was the Recorder, wow…)
My theme for that April issue was "Change." And that was the first change: a move to monthly themes or topics. I changed some of the artwork, added some new departments (like "SR Almanac," "Pastor Profile," the short-lived "From the Heart," and the infamous "Kevin's Korner").
Probably the best thing I can say about that first issue is that I dedicated it to my Dad. The pages were busy and I had a lot to learn. Would I hang in there to make a go of this?
Preceding this time in my life was a succession of 3-year cycles. Transferring in as a sophomore, I was at Houghton College for three years. Janet and I got married after graduation that summer, and I was in the business world for three years. A call to ministry sent us to seminary for another three. And I was privileged to pastor at the Madison, Wis., church for three years before coming to the SDB Center.
So after a trio of years working here at the Conference office, I began to wonder if this was what I should continue to do. I asked my board if I could embark on an "Editor's Retreat" to do some soul-searching.
My first stop was Newport, Rhode Island, site of our first SDB Church in America. I fasted and prayed, visiting the old church and graveyard, and imagining what life was like for those early settlers in the 1600s.
Then, driving through a heavy early-April snowstorm, I headed up the coast of Maine. Still seeking God's will and direction, I had a powerful encounter with Him at the Pemaquid Point lighthouse—a time of true revelation of His Presence. He had shown me much over those several days, but I still had not received a clear "Yea" or "Nay" about my calling.
By this time I had ended my fast and was finishing lunch on a tugboat restaurant in Boothbay Harbor. Reflecting on my lighthouse experience, I pulled a piece of paper out of my shirt pocket and started jotting down some notes. The lessons were powerful and fresh. And then I asked, "Lord, am I the person to be doing this job?"
"Turn the paper over."
"What, Lord?"
He said it again quite clearly: "Turn the paper over."
The printing on the other side said, "Kevin Butler, Director of Communications, Editor of The Sabbath Recorder."
It was one of my business cards.
That confirmation led to a succession of seven more 3-year cycles, and the awesome privilege of following a grand calling.