Jan 22, 2014
Tributes to Pastor Joe Samuels
     Rev. Joe A. Samuels of the Plainfield, N.J., SDB Church, touched many lives and ministries all over the world. He passed away on December 24, 2013.
     As we await the details of his storied life for next month's issue, we present these remembrances that were shared at his homegoing service in January.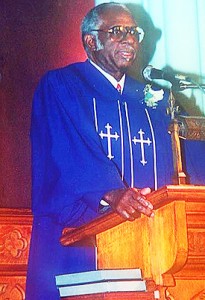 My pastor and my friend. The one who has meant so much to me and my family. He immersed me in baptism at the age of 15; performed my marriage ceremony; christened my three children; performed the marriage ceremonies of two of my children; and christened three of my five grandchildren. What legacy and attachment to this wonderful man of God. A pastor who taught me from a young age to walk in the way of the Lord without fear or compromise. I will miss my pastor. I will miss my friend. Rest in peace, Pastor Joe. You have done well here on earth.— Joy Fuller
Rev. Joe A. Samuels assumed pastoral duties at the NYC SDB Church at a critical period in our church's history. We were in great need of a spiritual Shepherd when "Pastor Joe" stepped in to minister to the flock until a resident pastor could be found. His brief tenure with us was exemplified by zeal for ministry, his deep love for the Sabbath, and his belief in excellent homiletics. Indeed, he will be long remembered for his well prepared and inspiring sermons.
Rev. Joe A. Samuels was a great visionary who not only conceptualized, but implemented as well. As a result he developed a training program to produce dynamic leaders who would not only serve their local churches, but who would also go on to become change agents. He envisioned a vibrant future for the SDB denomination with both spiritual and numeric growth, and he worked tirelessly to achieve that through his leadership training program, hosted at the Plainfield SDB Church.
One SDB giant has been called to join the Lord in higher service, and we know his works will follow him. We honor his legacy and mourn his passing, and extend our sincere condolences to his widow Joyce, children, family members, and the Brethren at the Plainfield Church.—The New York City SDB Church
Tears from Africa
Every time we met across the endless ocean
We found a humble symbol of our global mission
Every time Joe Samuels visited us in Malawi
We saw a man whose life was a mirror of wisdom
Every time we sat before this mirror of service and wisdom
We quietly, inwardly longed to be him on the best of our days
Every time we talked, conversed, shared and communed
We met someone who knew how to listen to our soul
Every time we think of his departed soul in tears
We deeply yearn to meet him again across the other ocean.
He was a friend, a brother, and our minister too
No tongue can reach the depth of loss in our heart
No words can speak the depth of loss in our soul
May the wings of his spirit fly beyond our memories.
—Bright Molande
Chairman of the Board of Trustees, Central African Conference