Sep 23, 2013
Walking in West Palm Beach: Group raises funds for bicycles
by Jasmine Lynch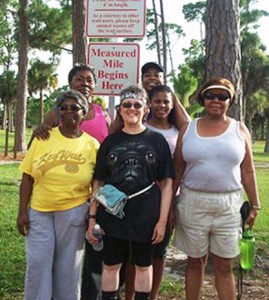 The West Palm Beach, Fla., Seventh Day Baptist Church organized a Walk-a-Thon at a park near the church. Our purpose was to raise funds to purchase bicycles that will help evangelists and pastors in the D.R. Congo to spread the Gospel. The church raised $350 to send to the SDB Missionary Society for disbursement.
Some members could not make it to the park so they donated to the cause. Pictured are Nadine Plummer, Sybil Rose, Andrea Morgan, Abbey and Donna Lynch and Jasmine Lynch. (In helping the missionaries, we helped ourselves by burning a few calories and having fun! I wish I could say we lost a few pounds…)
Our goal was to each walk 10 miles. It took us more than one walk to complete the task. We finished the distance in our neighborhood due to the high heat and humidity. The check is in the mail!