Sep 23, 2013
SDBs in Puerto Rico! Mission to San Sebastian
by Pastor Robert Van Horn, Pataskala, Ohio
Pastor Robert and Lana Van Horn of the SDB Church in Pataskala, Ohio traveled to Puerto Rico in 2012 to support their friends, Pastors Judith and Joel Houts, and to assist with some special Sabbath services. They were both blessed and a blessing in their travels.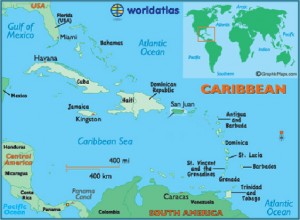 Lana and I arrived on Tuesday, October 9, and were met at the airport by Pastors Judith and Joel Houts. After dinner we climbed back in the car for our two-hour trip to the west side of the island and place of our mission work, sector Millo Mato, San Sebastian. You would have thought we were traveling in West Virginia, yet the foliage was strange—instead of oaks, pines, and poplars, the mountainsides were filled with palms, banana, avocado, mango, grapefruit, pineapple, and many unfamiliar fruits.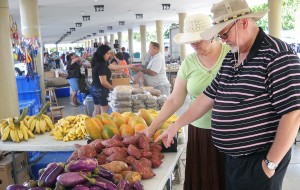 Upon arrival at the home and church site we were given the grand tour. Joel and Judith's home is two stories. The ground level holds the Houts living quarters, and the next level down is the missionary quarters where we were located. Outside and down to another level there are patios to the church kitchen, bathroom, and storage area. Off the patio is the covered outside chapel, and then down into the "farm" of various fruit and nut-producing trees. That evening we began by reviewing our agenda and praying for God's appointments that He would make, believing that God would send the people whom He had prepared for participation in His Kingdom.
Starting Wednesday morning, our devotion time was spent in God's Word, reading from Experiencing God, or discussion on Lana's prophetic dream. She dreamed that there were four bright stars swirling in the sky, then Jesus came to the four and said, "Carry on." Joel, Lana, and I were perplexed as to what the four stars and the swirling might be.
Judith went into the house for a moment and when she came back she immediately knew that the four swirling stars were the four of us, and that God had called us to this work. This was also a confirmation of a gift that Judith had received prophetically, that she would interpret dreams.
We spent time both morning and evenings praying for God to bind Satan's principalities and powers, so that God's Kingdom would be made stronger and surer for the people of Millo Mato. They have many of the same kinds of problems that we war with: drug and alcohol addiction, physical and mental abuse, witchcraft, lust of the flesh, and large unemployment.
Pastors Judith and Joel have already been ministering to many others, sharing the message of freedom and the coming of our Heavenly Father's Kingdom in their lives. To advertise the conference we used flyers, posters, and a loudspeaker driving around the sectors with our announcement. This was done on three different occasions during the week before Sabbath.
Friday dawned and it was preparation day for the Sabbath Welcoming service and to make sure we had everything we needed for Sabbath Day: Sabbath School; two conference sessions (11 am and 5 pm); SDB materials; electronics for sight and sound; tables, chairs, and plants for decoration.
At 5:00 the first guest arrived for the catered meal and welcoming the Sabbath. Praise choruses followed, led by Pastor Robert. Yolanda and her husband graced us with a couple Spanish praise songs, and then Pastor Robert taught several Sabbath songs written by various SDBs. (A tape recording was later made of the songs so they could be used in the future.) What a wonderful way to receive the JOY of the Sabbath. During the week and by the end of the Sabbath Eve Welcoming time, we had had a chance to pray for healing for four individuals and God had healed all of them. Praise Jehovah–Rapha, our healer!!
     Sabbath dawned bright and early. The day was mixed with showers, then full sun. By 8:00 we were at the sector's coliseum (a covered basketball court with bleachers and lights). Beside the items we brought, 30 chairs and two additional tables, and the catered lunch—consisting of yucca with onions, beans, rice, and salad—were all delivered and set up.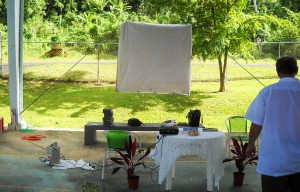 Sabbath School at 10:00 started with Lana leading the children's class. Pastor Joel led the adult class, during which a 60-plus-year-old man accepted the Lord as Savior. The 11:00 session followed with praise songs. After Lana shared the children's story, Pastor Robert was introduced and he shared about the need to destroy some tri-fold cords and develop other tri-fold cords. Eleven people were in attendance for that session.
We had a wonderful lunch and sharing in the afternoon. During a short rest, Pastor Judith ministered to a man who was hungry for food, yet she gave him both physical and spiritual food. The second session began at 5:00 with more praise songs—both Spanish and English—then special music by Jeanette (who made the Sabbath Welcoming dinner and had also had a healing.) There were eight that started the service and in a little while we were up to 16.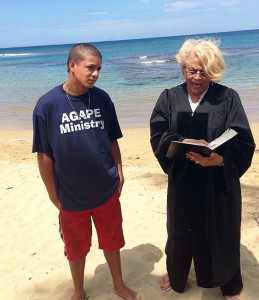 Lana shared her testimony, "Yes I believe in Angels." Pastor Robert presented how to recognize and pull down strongholds. An invitation for prayer followed with six coming forward. All of them received prophetic words, and freedom from the strongholds they were warring against. One of the ladies we had met on Friday evening had such a strong sad countenance on her face. She was delivered that night, and when we saw her on Sunday evening she was a changed woman. JOY exuded from her face! Praise Jehovah-Mekaddesh, our Sanctifier!!
     After sleeping in a bit on Sunday we rejoiced with each other for all that God had done since we landed on Puerto Rican soil. We did manage to climb up the hill to Judith's parents' home to pray and sing with them. Puerto Ricans have a wonderful custom—as you leave a person's home you are to leave them with a blessing! It was our privilege to try to join in with this great custom. We then visited the boys' home to bring some food and seek God's blessing for them. The director did not speak Spanish so Judith translated as we prayed together.
On Monday we went to the outdoor chapel to seek what blessings God would have upon the ministry, and to seek direction for Joel and Judith. God moved and gave words of prophecy specifically for Joel. Thank you great God who provides direction for His servants!! Monday was also a preparation day—getting souvenirs and clothes back into the suitcases.
We returned from our trip with a list of prayer names and concerns. Please join us in interceding for this new congregation. Pastors Judith and Joel have much work to continue. Christian foundations need to be taught, with much counseling. Pray for their Sabbath School and for more workers to accomplish God's will.
Going bananas in Puerto Rico
Right before we left, one more adventure awaited me in Puerto Rico. The bananas were ready to be harvested.
Did you know that each time a bunch of bananas is harvested, you cut down the whole tree? I had no idea. The banana tree has already started a new shoot beside the mature tree that will grow next year's crop.
I was privileged to do the cutting by machete—one whack and down came the top of the tree! Joel grabbed the top as it came down, then he cut off the bunch of bananas and the top of the tree. What a great learning experience!