Sep 23, 2013
Lincoln: A Faith For The Ages
by Leanne Lippincott-Wuerthele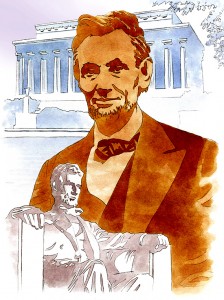 While researching about Abraham Lincoln one day, I came across several websites that blared, "Was Abraham Lincoln a Christian?"
Of course, Lincoln was a Christian, I thought. He talked and wrote about God all the time.
As I read those websites, I was amazed by how many people believe that question deserves a fervent, "No."
According to an article on Wikipedia, historians and others have debated Lincoln's religious beliefs for years.
Lincoln grew up in a highly religious family, but never joined any church. He was a skeptic as a young man, but frequently referred to God and quoted the Bible. He eventually attended Protestant church services with his wife and family and, after the deaths of two of his children, "became more intensely concerned with God's plan for mankind."
Biographers noted he was private about his own beliefs, but respected the beliefs of others. Many claim he never made a clear profession of "standard Christian beliefs," but he did believe in an all-powerful God that shaped earthly events. By 1865, he was expressing those beliefs in major speeches.
Some people claimed Lincoln was actually a "Universalist," believing in the eventual salvation of all people. Other labeled him a deist—someone who believes God created the universe and then abandoned it, assuming no control or influence over life, and giving no supernatural revelation.
In 1846, Lincoln ran for Congress against Peter Cartwright, a noted evangelist. When Cartwright tried to make Abe's religion—or apparent lack of it—a major campaign issue, the future President replied, "That I am not a member of any Christian church is true; but I have never denied the truth of the Scriptures; and I have never spoken with intentional disrespect of religion in general, or of any denomination of Christians in particular…"
When Lincoln's 11-year-old son, Willie, died in February of 1862, Lincoln was inconsolable. For an entire week after the funeral, he isolated himself in his office, weeping all day. Several people later reported that Lincoln told them his feelings about religion changed at that time.
Apparently, young Willie often said he wanted to be a minister someday. Following Willie's death, Lincoln remarked, "May God live in all. He [Willie] was too good for this earth. The good Lord has called him home. I know that he is much better off in Heaven."
Articles and books about Lincoln's spiritual life consistently present divergent views; it's like listening to endless "he said, she said" conversations.
I've chosen to believe the following account regarding Lincoln's spiritual life:
In November of 1894, a Freeport, Ill., pastor said a man from his state visited Lincoln in the White House. At the conclusion of their business, the man asked the President if he loved Jesus.
Reportedly, Lincoln buried his face in a handkerchief as tears came to his eyes. Then he answered, "When I left home to take this chair of state, I requested my countrymen to pray for me. I was not then a Christian. When my son died, the severest trial of my life, I was not a Christian. But, when I went to Gettysburg and looked upon the graves of our dead heroes who had fallen in defense of their country, I then and there consecrated myself to Christ. Yes, I do love Jesus."
In 1928, Mrs. Sidney Lauck signed an affidavit under oath in Essex County, N.J. In it, she stated Phineas Gurley, pastor of the New York Avenue Presbyterian Church in Washington, D.C., told her President Lincoln had made arrangements to join the church "by confession of his faith in Christ." The event was to take place on Easter Sunday, but Lincoln was shot on Good Friday and died at 7:22 Sabbath morning.