Sep 23, 2013
Fort Lauderdale Celebrates a Decade
by Gordon Lawton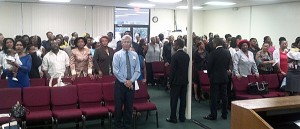 On Sabbath Day, August 31, 2013, members and friends of the Seventh Day Baptist Church of Fort Lauderdale, Fla., gathered in the late afternoon to commemorate their 10th anniversary as a congregation. Over 150 were present for the celebration.
It was a joyous time of remembering and thanking God. Music came from the Sanctuary Choir, the Youth, and the Voices of Praise (not the Toronto group). We also heard short histories of the Youth Ministry, Men's Ministry, Women's Ministry, Sabbath School, Diaconate Board, Music Ministry, Usher Board Hospitality/Fundraising Committee, and a video presentation about the last 10 years.
Tying this all together was a historical paper read by Deaconess Cynthia Miller.
The celebration message was brought by Pastor Wray Winborne of Daytona Beach. He spoke of "Hope and Dreams," with his text from Luke 4:14-21.
A Prayer of Thanksgiving and for God's continued guidance was offered by Pastor Andrew Samuels, the leader of the group that sponsored Fort Lauderdale—the Miami SDB Church.  Pastor Andrew was the first pastor of this new church.
Representatives from sister churches were recognized from Miami, West Palm Beach, Daytona Beach, Kissimmee and Bradenton—all in Florida. Others were there from the Christian Family Fellowship in Georgia; Agape SDB Church in Queens, New York; and even some from Jamaica in the West Indies.
Toward the end of the evening, Brother Noel Campbell, an evangelist who has filled the pulpit in Fort Lauderdale from time to time, shared how SDBs know how to "do church." He witnessed how people were there, and resting, and enjoying the time together. Brother Campbell introduced the charter members and asked the pastors present to come and pray over them.
My prayer is that this is only the beginning; that this congregation will be celebrating 100 years as a healthy and evangelistic church with years in the future, unless they are prevented by the Lord's return.