Sep 23, 2013
Choose… To Lose!
by Steven James
In today's culture, about the only time the phrase "Choose to Lose" can be inspiring is when it's talking about weight loss.
All around us we are told to win—that success is always moving upward and forward, never downward or backward.
Even in Scripture there is a litany of "winning" passages. "In all these things we are more than conquerors [winners] through Him Who loved us." "Now thanks be to God Who always leads us in triumph in Christ…" And from Jesus' own mouth: "…but be of good cheer, I have overcome the world" (Rom. 8:37; 2 Cor. 2:14; John 16:33)
So for me to encourage you to "choose to lose" may go against what society pushes us towards, and what we presume Scripture portrays as success.
Recently the Verona, N.Y., church hosted Dove Award-winning singer/songwriter Mitch McVicker (close associate to the late Rich Mullins) for the third time. I would highly recommend his heart and art to any of our churches!
One song he offered up conveys how we are living in a world that's upside down from what it means to follow Jesus. You can give it a listen online by going to http://bit.ly/171R5Sx.
If you will, allow me to share with you these words that are also from Jesus' own mouth, as we explore this choice as Christians, churches, and a Conference.
Jesus said, "Whoever desires to come after Me [follow Me], let him deny himself, and take up his cross, and follow me. For whoever desires to save his life will lose it, but whoever loses his life for My sake and the gospel's will save it. For what will it profit a man if he gains the whole world, and loses his own soul? Or what will a man give in exchange for his soul?" (Mark 8:34-37)
We've heard these words many times, but have we fully embraced and experienced them by doing them? (James 1:21-25)
The thought of "winning" by losing, or of "keeping" by letting go, can no doubt seem strange to us. It did to the disciples. Jesus had just related to them how He was going to die. He was at the pinnacle of "success" as the world sees it and He speaks of utter "failure." But anything else was considered by Jesus as of the flesh, worldly and even "satanic." (See the whole context from Mark 8:27-38 and parallel passages in the other gospels.)
We can't afford to just pass His words off as idealistic. Jesus expected them to be realistic for His disciples—both then and now.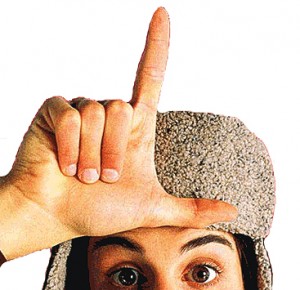 How can you and I be "losers" for our Lord and thus be true winners?
1) Choose to follow Him fully with abandon by denying ourselves and putting to death everything pertaining to us, identifying the hills of self and worldliness that we need to be crucified and die on.
2) Choose to lose everything this world offers and thus receive the greatest return that heaven holds for us.
3) Choose to never be ashamed of Him or His Words in our culture.
While this wasn't about weight loss, I hope you'll join me in being "biggest losers" in this way for our Lord! In fact, let's sign an "L" on our foreheads as a testament of this choice whenever we see one another!