Aug 26, 2013
Choose… to Choose!
 by Rev. Steven James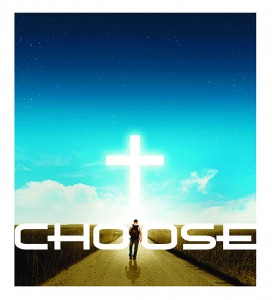 Welcome to our monthly times together as we explore the choices we can make for the glory of God, the good of others and the growth of His Kingdom!
This year's Conference theme—based on Joshua 24:14-15 and Deuteronomy 30:15-20—is summed up in one word: Choose!
The passage from Deuteronomy is what we will be unpacking during Conference week next year at Bethel University in St. Paul, Minnesota, while the passage from Joshua underlies the heart of this entire Conference year.
As people, we are constantly faced with choices. Just this morning I had the choice of whether to get up at a certain time or to sleep in, whether to utilize the internet connection I had where we were staying or to drive to a local restaurant and use theirs, and whether or not to have coffee and orange juice (or just one or the other) while I was typing this.
Making choices has been a dynamic of the human condition since the Garden of Eden. As Seventh Day Baptists, we value the ability to choose. Don Sanford's book about our history emphasizes that dynamic with its title, A Choosing People.
Like it or not, we are all faced with choices, along with the inherent blessings or blunders that result.
And if we say, "I refuse to choose," then guess what you and I have just done? We've made a choice!
As we begin this journey together, what can we learn from Joshua 24 when it comes to making choices by God's grace for His glory? (Please read that chapter now and then return to see what God could be saying to us today!)
1) The best choice we can make is to choose the Lord! Joshua challenged the people to choose to serve and follow the One Who had saved them by His grace out of Egypt. Each person had to make a conscious choice to follow the One Who had brought them into the Promised Land.
2) As we pass through the "Red Seas" and "Jordan Rivers" of our lives, we will be faced with fresh opportunities to choose to follow the Lord or not. Sometimes present successes, not just past failures, can cause us to swerve from the One we serve.
3) Not everyone will choose to go with you. Some will think that to follow the Lord wholeheartedly isn't the best thing for them to do. In those moments, you and I will have to allow others to make choices that may hurt them in the end, while we, as Joshua said, "will serve the Lord."
4) As much as we are able, let's take our families with us on the journey. Joshua spoke for himself and for his house—that they would serve the Lord. Too often we can get wrapped up in our own growth in Christ and forget to take our families by the hand and lead them into "the land" that God has promised. There can be times where your family won't go with you. At those times, if God directs, say something. Once you've done that, and really at all times, pray something: pray for God's grace, love, mercy and strength to rest on those you love and are given the opportunity to lead.
5) We're accountable for the choices we make, good or bad. Just as Joshua and the people of God raised up a pile of stones that witnessed their decision that day to serve the Lord, those stones symbolically would be a witness as to how they managed that decision each day.
God lays before us the opportunity to make choices by His grace for His glory, the good of others, and the growth of His kingdom on a daily basis. Not everyone will go along with us in our choices. May we do our best to encourage others to join us, starting especially with our families. We will give account for our choices to the One Who has saved us by His grace.
May you and I choose… to choose—not only during this Conference year, but from now until we go or Jesus comes!