May 24, 2013
A Dream Comes True— Just Different In A Different Land
by Shirley Morgan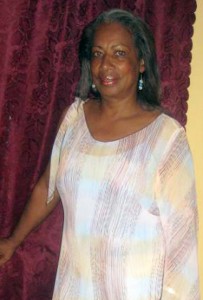 He said to them: "It is not for you to know the times or dates the Father has set by His own authority. But you will receive power when the Holy Spirit comes on you; and you will be my witnesses in Jerusalem, and in all Judea and Samaria, and to the ends of the earth." (Acts 1:7-8 NIV)
My dream to travel to faraway lands as a missionary remained just a dream for most of my life. At some point in my spiritual journey, I came to realize that I did not have to go to another country to impact someone's life. I continued to do what I love, meeting the needs of people as the Lord afforded opportunities. Little did I know that God was preparing me to be His witness in my "Jerusalem" instead of "the ends of the earth."
My missionary journey did not come about because of some organized plan. Due to my unresolved immigration status, I had to return to my native Nicaragua. My church—the Miami SDB Church where I served as an Associate Pastor of Outreach—decided to commission me as a Missionary Pastor. The question was how to get started.
I saw that there was a religious spirit in my new community of Corn Island, Nicaragua. Many people know about God but few know Him personally. There were already two strikes against me: being a woman pastor and a Seventh Day Baptist (nearly everyone thought Seventh-day Adventist). I was faced with false accusations and opposition. Matthew 5:11-12, "Blessed are you when people shall insult you" became my anchor. I was allowed to minister to young people at the Baptist Church I grew up in, but then was told I could no longer do so because of my belief in keeping the Sabbath.
These things were unfolding while my husband was still living in the U.S., visiting me as often as possible. We decided it was time for him to retire and join me. God provided a home large enough that would soon become our mission's center.
While seeking the Lord's guidance for ministry endeavors, I had a strong conviction He wanted me to focus on children. In May 2011, I invited some children to our home for Sabbath School. The first week we had three students, the following week zero. A young woman whom God placed in my life as an encourager and strong supporter, suggested that we send out invitations. The following week over 30 children attended Sabbath School.
Most of these students continue to attend weekly. The children don't care what denomination I belong to. They want love and acceptance, which they receive in abundance from my husband and me. Four people are being trained in Evangelism Explosion and we are seeing how God is using this to share the Good News of Salvation with others.
We don't have to go to foreign fields to carry the Good News, we just need to look in our backyard and bloom where we are planted. Our Sabbath School offering is used to buy groceries that we share with the needy elderly people in the community. The children love to visit and sing for them. And a sister from my husband's church in Miami consistently sends us used clothing and food items that are distributed to the poor.
A song comes to mind, "I'm only human, just a woman…." We are not just women. We are women called by God to go and tell others that He is risen. Serving as a missionary in my own hometown is difficult. However, as I surrender to God's will He is raising me up and using me to bless many.
Where is your mission field? What has God called you to do? Remember that "who God calls, He equips." I give God thanks for my husband who is my greatest supporter (he is right at my side in every ministry effort) and to my three beautiful daughters for encouraging me along the way.