Apr 24, 2013
Of Rings and Reminders
by Kevin Butler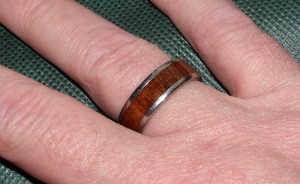 Reminders.
       "Remember the Sabbath Day by keeping it holy." (Exod. 20:8)
       "What do these stones mean?" (Joshua 4:6)
       "These commandments that I give you today are to be upon your hearts. Impress them on your children. Talk about them when you sit at home and when you walk along the road, when you lie down and when you get up." (Deut. 6:6-7)
On our way to Hawaii this past February I noticed a small advertisement in the airplane magazine. It featured some beautiful rings that were made and sold in Hawaii.
The ad said that the designer uses koa wood (native to the 50th state) and places it in a titanium setting. The wood against the silver tone looked striking. Some of the rings also had inlays of colorful Australian opal along with the wood.
Having once visited Australia, this piqued my curiosity, but I eventually set aside the magazine to do some other reading (or napping).
A few days later, while on a short flight between islands, I saw the same ad. This time I copied down the address. There was my reminder.
Following a day of fun touristy stuff, we arrived at the jewelry store in the late afternoon. I asked the congenial young man behind the counter about those koa wood rings. Chad knew just what and where they were. It turns out that he was the store owner.
When I saw the rings with the fancier stones, I felt a bit put off by the busyness of the design—and the price was certainly a deterrent. But the ones with the simple wooden band still intrigued me. I guess I was in the market for a special souvenir.
After several fittings, we finally settled on my finger size (I haven't worn a ring on my right hand in years) and discovered that there was one of those "plain" rings in stock. I tried it on. I liked how it looked. Then Chad added some information that sealed the deal for me.
"These rings are made one at a time here in Hawaii. Other stores offer similar ones, but they're cranked out every night by dozens of Asian workers somewhere else. This one was handmade by an aerospace machinist."
So the ring on my finger would not only be a memory of our vacation, but also of my father, who was a retired aerospace engineer. He passed away last July.
It is a daily reminder of our great vacation together, of the state of Hawaii, of my Dad, and of God's goodness in granting the desires of our hearts and allowing Janet's dream getaway to come true.
After I'm gone and when the kids go through my stuff, will they remember the story of the ring?
Do we remember the markers God sets out for us?
Every week, the Lord provides a special reminder of His creation, His provision, His liberating freedom and His rest. As we remember each Sabbath and keep it holy, He is faithful in granting us a time of communion and renewal.
May you be blessed this Sabbath, and may His presence be as familiar as the back of your hand.