Apr 24, 2013
Marriages
Page – Stillman.  Jason Paul Page and Christine Catharine Stillman were united in marriage on December 29, 2012 in Missouri City, TX.
Killingbeck – Wethington.  Caleb Justus Killingbeck and Jenna Lynn Wethington were united in marriage on February 24, 2013 at the White Cloud, MI, SDB Church. Rev. Bernie Wethington, father of the bride, officiated.
Diederich – Stillman.  James Diederich and Danielle Miriam Stillman were united in marriage on April 6, 2013 in New Orleans, LA.
Births
Ryschon.—A son, Holden Levi, was born to Jordan and Kristan Ryschon of North Loup, NE on February 14, 2013.
Baker.—A daughter, Madison Rae, was born to Ben and Nicole (Musselman) Baker of New Enterprise, PA on March 18, 2013.
Clark.—A daughter, Aria Isolda, was born to Brett and Liana (Stillman) Clark of Boston, MA on March 26, 2013.
Harris.—A son, John Franklin, was born to Josh and Margot (Walker) Harris of Janesville, WI on April 17, 2013.
New Members
Metro Atlanta, GA
John Pethtel, pastor
Joined after testimony
Marie Bullmer
Linda Waters
Texarkana, AR
Mynor Soper, pastor
Joined after testimony
Jerry Littles
Obituaries
Day.— Fern Day, 91, entered into her Lord's arms December 6, 2012 in Wheat Ridge, Colo. She was born in Baca County, Colo.
Fern was preceded in death by her husband of 54 years, Lee, for whom she was also caretaker for 33 years. She lovingly sheltered and cared for her various family members throughout her life. She was a member of the Denver (now Next Step) Seventh Day Baptist Church.
She is survived by her daughter Joyce Conrod of Wheat Ridge and her son Larry Day, of Missouri; sisters, Mary Springer and Alice May Hirt; seven grandchildren, 10 great-grandchildren, and three great-great-grandchildren.
Shaw.— Edwin "Ed" E. Shaw, 83, of Milton, Wis., left this world to be with our Lord and Savior, at the Edgerton (Wis.) Care Center on March 7, 2013. Ed was born on March 10, 1929 in Janesville, Wis., the son of Elston and Emma (Maxson) Shaw.
He graduated from Milton Union High School in 1947 and from Milton College in 1956. Ed served in the Army during the Korean Conflict from 1951-1953, and married Martha A. McCumber on October 13, 1951. He worked at General Motors in Janesville, at the Beloit Corp, in Beloit, Wis., and the Sharon (Wis.) Foundry, retiring in 1994. He was a life-long member of the Milton Seventh Day Baptist Church.
Ed sang for several years with the Chordhawks of Janesville and the Blue Notes of Milton, along with a barbershop quartet, The Forte Four. He was active in the Boy Scouts and Explorers of America for many years.
He is survived by his wife, Martha; his three children: Dennis Shaw, Dawn Scoville, and Teresa Kersten; eight grandchildren and 11 great-grandchildren; a brother-in-law, William McCumber; and several nieces and nephews. He was preceded in death by his parents and step-mother, Dorothy (Maxson) Shaw; two brothers-in-law, Raymond and Robert McCumber; a sister-in-law, Corrine McCumber; and several aunts and uncles.
Funeral services were held on March 11, 2013 at the Seventh Day Baptist Church, Milton, with Pastor George Calhoun officiating. Burial with full military rites was in the Milton Cemetery.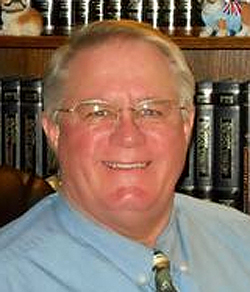 Wethington.— Rev. Bernie E. Wethington, 64, beloved pastor of the White Cloud, Mich., SDB Church passed away on March 19, 2013 at his home following his battle with cancer.
Pastor Bernie was born on December 28, 1948 in Durham, N.C., to Laurie and Margie (Elliott) Wethington. He joined the U.S. Marine Corps and served during the Vietnam era. Bernie married Patti Marie Gill on June 22, 1974 in Long Beach, Calif.
He started his ministry with Campus Crusade for Christ in California, and later became an ordained minister in 1978. He pastored for several years in the San Diego area until moving to White Cloud in 1995 to become pastor of the Seventh Day Baptist church there. Bernie also helped found the White Cloud Teen Center, "A positive place for teens." He enjoyed reading, learning new trivia and history, and was well known for finding the positive in any situation.
Pastor Bernie truly had a passion for connecting with people and for building relationships. He had a great love of God and would often say, "I am too blessed to be stressed." His unconditional love of Christ, which he kept close his entire life, truly meant to him: "God Wins."
Surviving are his wife, Patti, of Big Rapids; son Sean of Big Rapids, and daughters Leanna of Fremont, Mich., and Jenna Killingbeck of Reed City, Mich.; a grandson, Barrett; his mother, Margie Worley of Big Rapids; a brother, Michael Wethington of Montgomery, Ala.; a step-sister, Linda Bearden of Greenville, S.C.; father-in-law Robert Gill of White Cloud; and four nieces and nephews.
A memorial service was held on March 25, 2013 at the White Cloud United Methodist Church with Pastor Nate Crandall officiating. Burial was in the White Cloud Cemetery.
Young.— Maurice M. Young Sr., 89, of Westerly, R.I., passed away on March 20, 2013, at home with his family at his side. He was the son of the late Frederic C. and Katherine L. Young.
Maurice attended Westerly High School before enlisting and training at the U.S. Coast Guard Academy in New London, Conn. Serving in World War II, and while stationed in Wildwood, N.J., Maurice married the love of his life, Georgia Bramble, on September 8, 1944.
Maurice worked for 44 years at The Westerly Sun newspaper and another 20 at his retirement job at McQuade's Marketplace. Maurice was very active all his life in both Hopkinton and Westerly, giving of his time, talent and treasure. Maurice strived to serve the public's best interest politically, professionally and educationally in whatever he endeavored.
Maurice and Georgia were lifelong members of the Pawcatuck Seventh Day Baptist Church, where Maurice served as an ordained deacon for 66 years. He sang in the Sea Notes and most loved the barbershop quartet that performed around the community. You could always find Maurice singing a tune or grabbing a coffee and donut at a local shop. He loved God, people, his family, his life, and the living of it.
The great passion of his life was mentoring young people. He enjoyed his job at McQuade's most of all because it was there that he had the opportunity to mold young men's hearts.
Survivors include his wife Georgia; three children, Eileen Strawderman, of Hamilton, N.J., Maurice Young Jr., of Central Village, Conn., and Janet Russo, of Westerly; with seven grandchildren and seven great-grandchildren.
A celebration of Maurice's life will be held on May 5, 2013 at the Pawcatuck SDB Church in Westerly. Private burial will be in Hopkinton, R.I.
Death Notices
Ralph H. Weber, 84, of Lafayette, LA, died on February 14, 2013.
Lois K. Fletcher, 80, of New Enterprise, PA, died on April 1, 2013.