Mar 25, 2013
Tempting, huh?
by Seth Osborn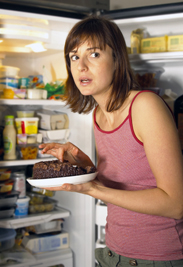 Temptation is a powerful force. Everybody has experienced it. It seems simple enough to tell yourself, "No, don't do that," but we know that it's not nearly that easy.
The interesting thing about temptation is that the things we're tempted to do aren't always bad in and of themselves. Yes, sometimes you'll be tempted to do things that are clearly sinful—like lying or disobeying our parents—but many times there won't be anything inherently wrong with the thing we're tempted to do.
For example, someone might be tempted to eat excessive amounts of food. Food isn't evil; in fact, food is a necessary thing for our bodies to continue functioning. It becomes a bad thing when we allow the food to dominate us for the amount of time we continue to consume it.
When we allow something like food to control our life, we're saying it's the most important thing to us at that moment. It disrupts life and takes time away from other things we could be doing, like work or spending time with people. When we let ourselves fall into this temptation of doing something for more than a rational amount of time, we allow it to hold more importance than other things—like our family, friends, jobs, and even God. Yikes.
So how do we keep from being tempted, whether it's something innately sinful or something that we should do in moderation? Well, I'm happy to tell you that there's this great big book full of answers for people who are willing to give it a look. Let's just dig in, shall we?
Paul reassures us in 1 Corinthians 10:13, "No temptation has overtaken you except what is common to mankind. And God is faithful; He will not let you be tempted beyond what you can bear. But when you are tempted, He will also provide a way out so that you can endure it." This Scripture gives us great hope against temptation. It lets us know that we're not facing any temptation on our own. Anything we could be tempted by is "common to mankind." It also lets us know that any temptation we face is possible to overcome. God will even give us an escape from the temptation, so we can power through it.
Caution: Many people take that last part to mean that God won't give us anything more than we can bear. Do NOT make this mistake. The verse is saying that if you're being tempted, you can overcome it, not that we won't ever suffer something more than we can endure. In fact, there are verses in the Bible that specifically talk about such suffering, like Psalm 38:4 and 2 Corinthians 1:8. God may allow us to suffer more than we can bear, because He wants us to rely on Him to help us through such times.
Matthew 26:41 reminds us to "'Watch and pray so that you will not fall into temptation. The spirit is willing, but the flesh is weak.'" Our spirit is perfectly willing to resist temptations, but we can still easily succumb to the desires of our sinful nature. If we pray for God to help us, though, He'll do so.
And if you ever wonder whether it's even worth going through the struggle of temptation, look no further than James 1:12 for your answer: "Blessed is the one who perseveres under trial because, having stood the test, that person will receive the crown of life that the Lord has promised to those who love him."
So next time you're tempted, remember that God is here. He won't allow you to be tempted by anything that's impossible to resist, and He will provide a way out. All you have to do is ask, and He will be more than happy to help.