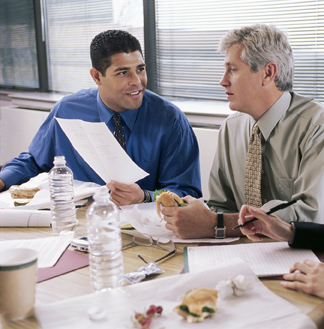 Feb 22, 2013
Let's Do Blunch!
by Pastor Matthew Olson
Berlin, N.Y.
On my office wall there is a plaque that reads, "The things which you have heard from me in the presence of many witnesses, entrust these to faithful men, who will be able to teach others also" (2 Timothy 2:2, NASB).
I first memorized that verse in the early '90s while preparing to teach a discipleship program. The training was based on Colossians 2:7, "…having been firmly rooted and now being built up in Him and established in your faith, just as you were instructed, and overflowing with gratitude."
Twenty years later I found myself studying Breakout Churches, authored by Thom Rainer, with our church moderator and licensed preachers. During that study, my passion for discipleship was rekindled. Through the Holy Spirit, I came to understand that my calling as pastor in Berlin is to equip others in our church for leadership. Thus, from the study of that book our "Preacher's Blunch" was born.
I did not originate the word blunch—a portmanteau combining the words book and lunch. "Blunch" was coined by a local school teacher who rewards her students by allowing them to meet with her, to enjoy lunch together while also discussing a book they are both reading.
I found that the word describes perfectly my vision for mentoring the preachers in our church—meeting with me after Sabbath School for about an hour, eating lunch and studying books to help them improve their gifts.
The original focus of our Preacher's Blunch was training and equipping those who are licensed by our church to preach. In our first meetings we spent our time studying practical topics such as how to write a sermon, the characteristic of effective pastors, and how to lead the church to growth. On occasion we were joined by another local pastor, or by church members who might benefit from a specific topic.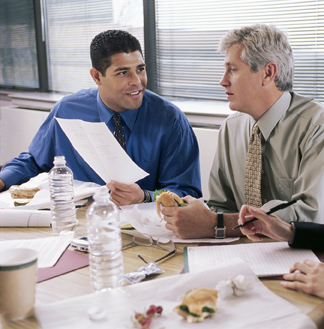 As the group continued to meet, however, I realized that it could be an effective way to disciple not only the preachers in our church, but any church member who showed leadership potential. I began to expand the study topics and invited young men whom I felt God had called to leadership to join the Blunch.
The purposes of the Preacher's Blunch expanded. We were to disciple and equip not only pastors, but also leaders. We began to study books like Grasping God's Word authored by J. Scott Duval and J. Daniel Hays, a college-level course designed to help attendees read, interpret, and apply the Bible. We also studied systematic theology using Christian Beliefs by Wayne Grudem.
Expanding the reading materials has led the group in all sorts of interesting directions. For example, we recently discussed how a leader in the church might confront a practicing atheist. Specifically we talked about one of the most common objections atheists have to Christianity—the belief that the Bible is untrustworthy.
This brief study was just a prelude to what comes next for the group, however. Over the next several months we will explore ways in which a church leader might confront a practical atheist.
Several recent books by authors such as Francis Chan, Craig Groeschel, and Kyle Idleman have addressed this issue. At least two of them, Christian Atheists by Groeschel and Not a Fan, by Idleman, have been used in one or more of our Sabbath School classes. The authors' concern is simply this: most folks, even those who attend church on a regular basis, believe in God but act as if He doesn't exist. That is, they know there is a God but don't allow that reality to impact their lives.   We aren't surprised that this is true of people who don't attend church. If the same holds true for many who have professed faith in Christ and attend church, however, it's not only surprising, but deeply troubling.
As our group discusses how we might lead others to take their faith seriously, we will be exploring what Mark Devers considers the nine marks of the church and the corresponding marks for church members. We plan to share what we learn with the entire congregation through a series of articles in our church's monthly newsletter. [Editor's note: Hmm… I wonder if we could "borrow" those articles for the SR?]
These articles will explain the nine marks and will reflect on what we have learned within the Preacher's Blunch group. The goal of these articles is to teach others that they too might deepen their knowledge and understanding of who God is, and thus grow more and more like Christ—the head of His body, the church—in every way.
Not every Seventh Day Baptist church has implemented (nor do they need) something like our Preacher's Blunch. But I do believe that every Seventh Day Baptist church has a responsibility to train its leadership, that they might be able to disciple those who belong to the church.
Our model for doing that is just one among many. I encourage you to explore the various ways in which your church might entrust what you have learned to faithful men.
Books mentioned in the article:
Breakout Churches by Thom Rainer. (Zondervan, 2004)
Christian Atheists by Craig Groeschel. (Zondervan, 2011)
Christian Beliefs by Wayne and Eliot Grudem. (Zondervan, 2005)
Grasping God's Word, 2nd edition by J. Scott Duvall and J. Danile Hays. (Zondervan, 2005)
Not a Fan by Kyle Idleman. (Zondervan, 2011)