Jan 24, 2013
Worried? Stressed? Try this…
by Seth Osborn
I've been reflecting on the fact that I've already finished up the first semester of my 11th grade year. This is pretty big: I'm more than halfway done with my high school career.
After three more semesters, I'm going to be off to college. That sounds like a long time when I say it, but thinking back, it really wasn't all that long ago that I started to learn how to navigate my maze of a school. If two and a half years have gone by so fast, then one and a half more surely can't be that long, can it?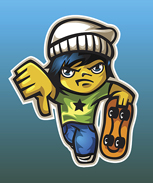 Honestly, thinking about this can be a little stressful. I need to make sure that I keep my grades up so I can get into a good college. I also need to look for somewhere that doesn't have too high of a tuition so my parents and I can afford it.
And this whole situation is just one of the things to be stressed out about in my life. What could I possibly do to help relieve some of this stress? Where could I possibly go to find encouragement to not worry?
If you guessed something along the lines of "read the Bible," then you probably remembered that this is a Christian publication and jumped to the most logical conclusion. Good job!
Philippians 4:6-7 tells us, "Do not be anxious about anything, but in every situation, by prayer and petition, with thanksgiving, present your requests to God. And the peace of God, which transcends all understanding, will guard your hearts and your minds in Christ Jesus." In other words, we should ask God for help with our problems, and not waste time feeling stress over them. If God is all-powerful, then He can help, can't he?
Another verse with a similar message is one I mentioned in my first article. 1 Peter 5:7 says, "Cast all your anxiety on Him because He cares for you." Sometimes we might feel like our problems aren't important enough for God, but He made us and loves us. If He loved us enough to send His son to die for us, then I think He'll probably be willing to help us out with some smaller things along the way.
In Matthew 6:25-27, Jesus says, "Therefore I tell you, do not worry about your life, what you will eat or drink; or about your body, what you will wear. Is not life more than food, and the body more than clothes? Look at the birds of the air; they do not sow or reap or store away in barns, and yet your heavenly Father feeds them. Are you not much more valuable than they? Can any one of you by worrying add a single hour to your life?" This is a good insight. God made man in His own image (Genesis 1:27), so we're obviously more important to Him than anything else in Creation.
God will take care of us, even if it doesn't seem like it. Worrying won't do us any good; it only makes us waste time wondering what to do instead of actually doing something. This passage concludes with one of my favorite Bible verses, Matthew 6:34—"Therefore do not worry about tomorrow, for tomorrow will worry about itself. Each day has enough trouble of its own."
Max Lucado once said, "No one can pray and worry at the same time." So take the advice of these verses! Next time you're feeling anxious about something, take that time you were going to use to worry and use it to pray. Tell God what's going on in your life, and ask Him to help you through it.
Things might not seem to get better right away, but you can be sure that everything will work out in the end.