Jan 24, 2013
Will You Pray With Me?
By Andrew J. Camenga
For the last year, I've been praying that God would grant opportunities to speak His Good News into the lives of people who don't yet know Him. The obvious result in my life is a growing conviction that this needs to be my prayer right now.
God has brought passages of Scripture to my mind in new and very personal ways. This has rung true from the obvious call of the Great Commission to the poignant "How beautiful are the feet of him who brings good news."
Surprisingly, it has also rung true for the command to always be ready to defend with gentleness the hope I have to anyone who asks.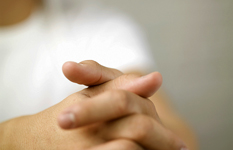 I have been ready to give that defense. My parents and churches taught the Gospel message well and in a way that was deeply internalized. I learned the Romans Road by heart early in life, and have been ready to use John 3:16 in a conversation if it seemed merited. In preparation for dedicated service and my year in SCSC, I developed and honed a "three-minute testimony" that I still use. My heart and head resonate with the ringing words of 1 Corinthians 15 that "Christ died for our sins according to the scriptures, and that he was buried, and that he rose again on the third day according to the scriptures, and that he was seen…"
In addition to that preparation, you can layer on top the years of praying, listening, Bible Study, specific theological training, preaching and teaching, praying, singing, and more listening. From time to time I've devoured tracts (4 Spiritual Laws, Steps to Peace with God, One Verse Evangelism), books (How to Give Away Your Faith, Just Walk Across the Room, Tell The Truth, The Master Plan of Evangelism), sermons, and lecture series—all designed to enlighten, encourage, and equip people for evangelism. I have significant knowledge.
Beyond that, I have experience. I have talked with people about their faith. I have presented the Gospel in situations where people don't know Christ. Before I started the job I have now, I worked side-by-side with people who rejected Jesus and talked deeply about who Christ is and how He has influenced me. As I left those jobs, I was told a couple of times, "I've watched you over the past few years and I know that Jesus makes a difference in your life."
So, why am I praying that God will grant opportunities to speak His Good News into the lives of people who don't yet know Him? Because He has laid the concern on my heart. Because our Conference has been focused on church planting. Because my Association has been focused on outreach. Because I've been wrestling with evangelism materials in developing a workshop.
Because God has been softening my heart.
In Matthew 23, we hear the heart of Christ desiring to gather in the whole of Jerusalem rather than to pronounce woe for rejecting the word and way of God (v. 37). The sentiment proclaimed there is echoed throughout Scripture. And God has been calling my heart to hear that echo and yield to that sentiment. God wants to gather people to Himself and He has chosen to use us in the process.
As I drive through cities and by single houses in the woods, I am becoming more aware that there are people God would gather to Himself who need to hear His call, His words, His life, His love. At this moment, I cannot point to events or encounters that have happened as a result of my prayer. But as God grants life and health, He will grant the desire of my heart—to be in tune with His desire and speak His words at the right time to the right person.
God is changing me to be ready for the encounters He has planned. Will you pray with me? Will you ask God to grant you opportunities to speak His Good News into the lives of people who don't yet know Him? If you do, be ready to speak. Be ready for changes He may make in your heart, head, and life.