Jan 24, 2013
So many choices!
by Kevin Butler
Radios.
They've been a big part of my life for as long as I can remember.
I guess I got the "radio bug" when I watched my Dad set up the heavy, multi-tubed Heathkit shortwave radios on the dining room table. Turning on the stereo console behind him, he would drop the needle on the spinning record, and do his best to learn Morse Code from those LPs. (Even with his sharp mind, he didn't have the time to master the code and never got his ham radio license.)
But he would continue to listen to AM radio. We would hear the local news and market updates. After Dad went to work, Mom would keep the radio on. My younger sister and I hold fond memories of Arthur Godfrey entertaining us on the school days we pretended to be sick…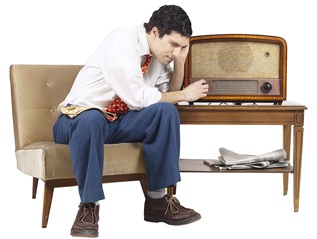 Now, I'm surrounded by devices that can pick up just about any radio signal you can imagine. Multiple radios in our house (okay, my room) can receive the couple dozen local AM and FM stations. I bought one special HD desk radio before I found out there are no HD stations nearby. Yes, I even pay extra for satellite radio (at home and in the car) that can pull in over 140 channels of music, sports and all kinds of audio wonders.
Shortwave? You want shortwave? With its nine different bandwidths and the right antenna and time of day, I can listen to many, many more commercial and amateur broadcasts from all over. Atmospheric conditions and even sunspots can cause the reception to drift, but with some adjustments I can generally tune in the strongest signal.
And now I have stand-alone internet radios pulling in stations worldwide that choose to 'stream' their programs on the web. (I love the radios that promote their ability to receive over 17,000 stations, and then they give you a paltry 10 memory presets.)
Add to all this the internet music streaming services like Pandora and Spotify, plus all the computer and iPod music apps, plus the near-infinite supply of music stored in those mysterious "clouds," and there's no lack for sound options.
Why so many? I guess with 7 billion people on this planet, it makes for a ton of different tastes and preferences. So we have a lot of radio options.
And we have a lot of church options. Many people have many different tastes and beliefs.
Do we choose a local church the way we approach our radio listening?
Your church might not always provide you with the strongest signal to God. The leaders might not always offer your favorite style and taste in music or preaching. Some of the "commercials" might even get distracting.
But you belong to that church for many other positive reasons. Why drift away to find another channel on the church dial? Doesn't your conviction strengthen your connection? Do what you can to make some adjustments and be in tune with the Source.
My prayer is that you keep that church as your #1 preset and give praise to God where He's planted you!